This Strawberry Caprese Pasta Salad is made simple with just five ingredients, and tossed in a delicious balsamic reduction.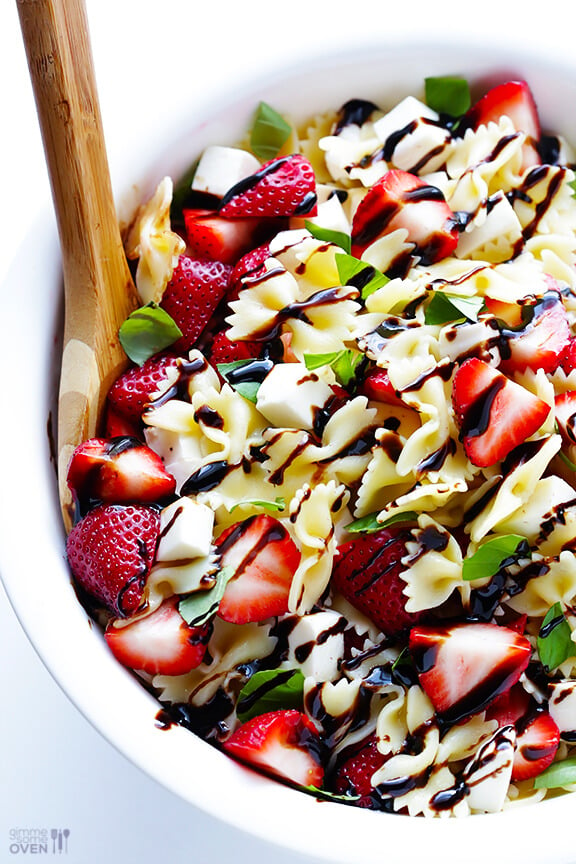 I feel like I should forewarn you that this may turn into the Summer Of Pasta Salads here on the blog.
I am apparently obsessed with them lately, especially once the lightbulb went off and I realized (far too late in life) that the words
pasta salad
do not need to be linked with
mayonnaise.
Ugh.
I keep trying to be an adult and learn to like mayo. But it is just not my thing.
This came up in conversation twice in the last month with friends and everyone was discussing what foods they still no longer like as an adult. I was aghast when some close friends proudly declared that they don't like shrimp (ah!), mushrooms (yum!), and soft cheese (MY LIFE). But when it was my turn and I confessed that I don't like mayo, it was my turn to hear all of the gasps. Eh, everyone substitutes Greek yogurt for it nowadays anyway, right??
Well,
this
pasta salad has mayo nowhere in sight. And when I posted it on Instagram last week, everyone still seemed pretty excited about it. So let's get to it!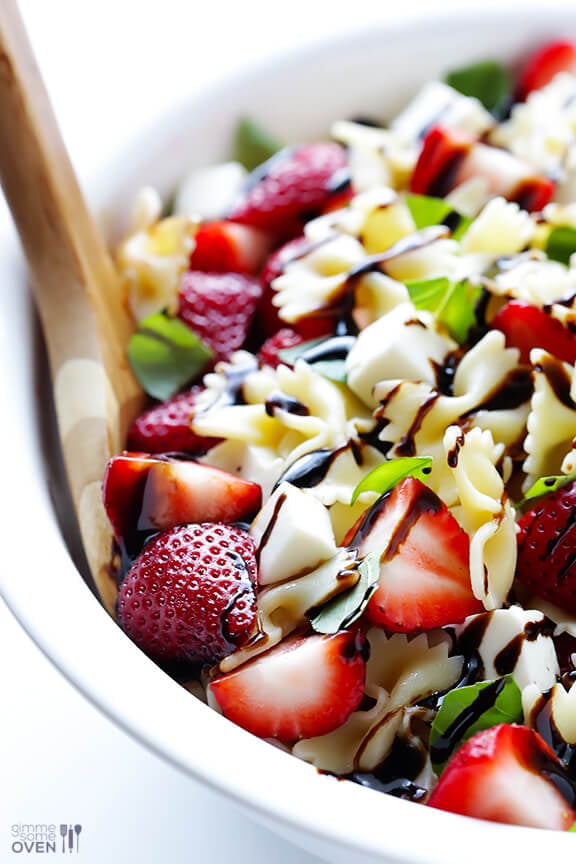 Clearly I'm also still on the 5-ingredient bandwagon lately. It's too fun of a challenge to pass up! And I have to say that I think this recipe maximizes the heck out of all five.
I couldn't decide whether to call it Strawberry Balsamic Pasta Salad or Strawberry Caprese Pasta Salad. But basically it's a "caprese" recipe where you substitute in strawberries for tomatoes. So that makes the five ingredients:
pasta
fresh strawberries
fresh mozzarella
fresh basil
balsamic reduction
As you can see, I substituted in one of my favorite DeLallo products — their heavenly balsamic glaze — instead of reducing my own balsamic. But you can also easily make it for yourself on the stove while your pasta water comes to a boil.
And the process itself is simple. Just cook your noodles, then drain and immediately rinse them in cold water to halt the cooking. Then toss the noodles with the berries, chopped basil and diced mozzarella. And drizzle with as much reduced balsamic as you'd like.
I was initially going to toss the salad in the balsamic, and then my friend
Maria
suggested I just drizzle it instead. That's what good foodie friends are for — look how pretty it is!
Anyway, this is a stellar dish for any summer grill-out or tailgaiting or even just a lovely dinner inside at home. And if you're not feeling the chilled vibe, this pasta also works well served warm. (Just know that your mozzarella will melt if tossed with hot pasta.)
And the best news? NO MAYO IN SIGHT. :)
Enjoy!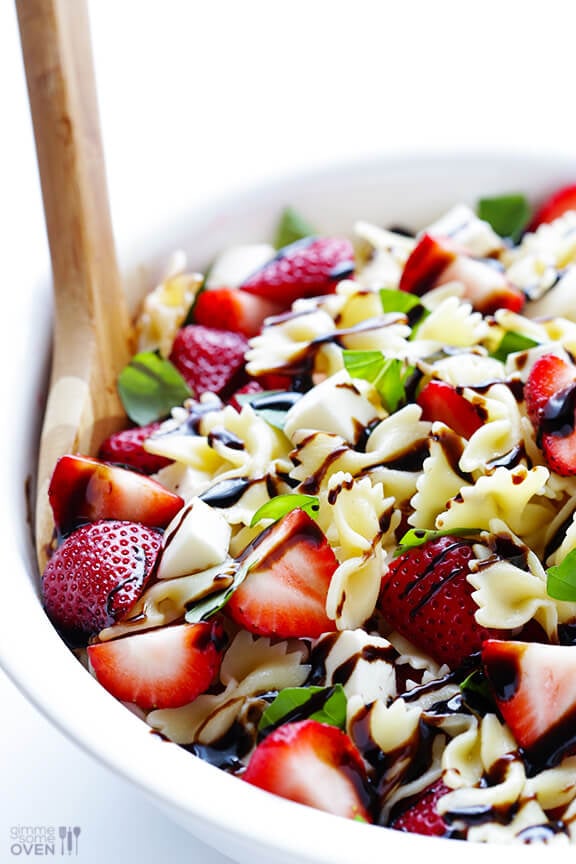 PRINT SAVE
YIELD: ABOUT 4-6 SERVINGS

5-INGREDIENT STRAWBERRY CAPRESE PASTA SALAD

This 5-Ingredient Strawberry Caprese Pasta Salad is quick and easy to make, and a delicious sweet and savory addition to any meal.

PREP:

5 MINS COOK:

10 MINS TOTAL:

15 MINS

INGREDIENTS:
1 pound dry pasta (I used farfalle)
1 pint fresh strawberries, hulled and halved
1 ball fresh mozzarella, diced
1/2 cup loosely packed torn fresh basil
3 tablespoons balsamic glaze (I used DeLallo, but see instructions below for a homemade alternative)
DIRECTIONS:

Cook pasta in a large pot of salted boiling water al dente, according to package instructions. Drain and immediately rinse with cold water to stop the pasta from cooking.
Toss the pasta with the strawberries, mozzarella and basil. Pour half of the pasta into a serving bowl, and drizzle with balsamic glaze. Then pour the remaining half of the pasta on top, and drizzle with the balsamic glaze. Sprinkle with extra basil if desired. Also, if the pasta seems to dry, you can toss it with a tablespoon of olive oil.
*To make balsamic glaze homemade, whisk together 1/2 cup balsamic vinegar and 1 tablespoon of granulated sugar together in a small saucepan. Bring to a boil over medium high heat, then reduce heat to medium low and simmer for 10 minutes or until reduced by half. Give it a taste. If you think it needs sweetening, stir in a few teaspoons of sugar or honey.