Learn how to make fried rice with this fabulous classic fried rice recipe. Feel free to add in chicken, pork, shrimp, veggies, or any other proteins you like as well.
You guys
.
Pretty sure I had a jump-up-and-down, shout-for-joy, high-five-my-dog, ballet-leap-across-the-floor, I-am-Fried-Rice-Maker-hear-me-
ROAR
moment in my kitchen yesterday when I tasted this recipe. After about 15 years of trying, I
finally
found a fried rice recipe that met my standards. And I am positively giddy.
Ok, but let me back up.
You all have heard me wax poetic about my obsession love of
egg drop soup
, and how I ordered it
every single Saturday
of my childhood at our family's favorite neighborhood Chinese restaurant. Well, what does a picky eater order to go with her egg drop soup for said Saturdays upon Saturdays of childhood? Fried rice, of course. In later years, I became obsessed specifically with
pork
fried rice. But for those first 12 years of life, it was "a side of plain fried rice, please" for me.
So much fried rice!
I feel like it's critical to note, though, that the fried rice of my childhood was not that lame, bland,
so-
not-worth-the-carbs, lame excuse for fried rice that seems to be all too prevalent in take out joints around the world. Quite the contrary. This was flavorful, fresh, chewy, perfectly-fried, not-too-greasy, enjoy-it-to-the-last-bite spectacular fried rice. And it set the bar for fried rice for the rest of my life.
Sadly, this sweet little family-owned restaurant was pushed out of business by a terrible mega-buffet that opened across the street. (A total tragedy.) So for the past decade or so, I have been working to try and recreate the delicious fried rice of my childhood. I started experimenting in college, and have come close enough a handful of times for the fried rice to be passable, but it was never quite "there".
Until yesterday.
I have to admit. I was craving fried rice so badly that I finally sat down and did some old fashioned research on the new fashioned Internets. And many articles and three test batches later, I finally nailed it. And then jumped for joy and promptly ate way too much fried rice with serious joy.
In my world, this is a Big Deal. In yours? Eh, maybe? Either way, it's a fabulous 15-minute meal and can be a base for any other kind of fried rice you might enjoy. So let me tell you what I learned…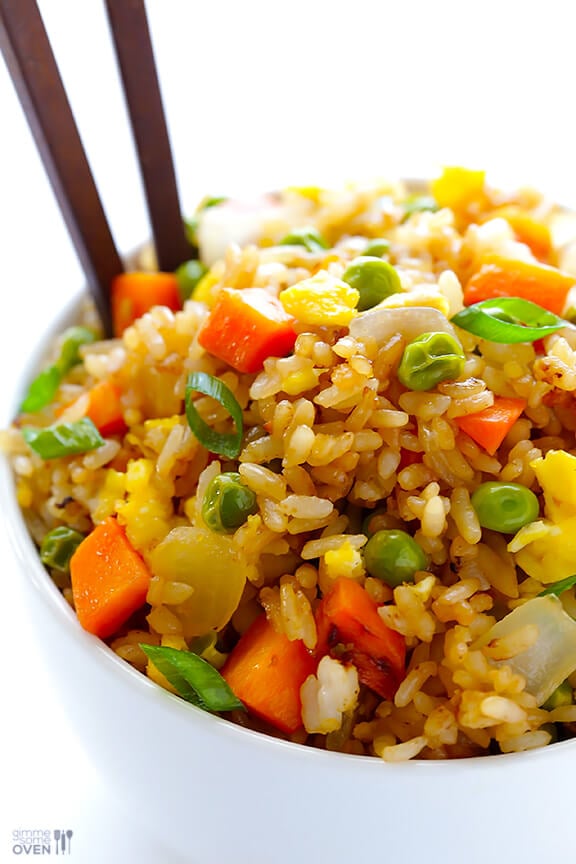 Ok, let's cut right to it. Here are the important things I have learned over the years (and yesterday!) about making excellent fried rice.
1) Use cold rice:
The key to great fried rice is using cold (or even leftover) rice. There's something about the cold rice hitting a hot pan that makes all the difference. So even if you make a batch of rice just for this recipe, spread it out on a baking sheet or some large surface and pop it in the fridge (or freezer) for about 10-15 minutes beforehand so that it is not warm. You don't want it to be frozen, you want chilled. (I also prefer short-grain rice, but that's a preference — I like mine a little chewy!)
2) Use butter:
Yes, butter. I have made many a batch of fried rice using various oils, and I'm now convinced there's a reason why Japanese steak houses use that big ol' slab of butter when they're making fried rice. It just
tastes
better, and makes everything brown up perfectly. (Although don't be scared — we only use 3 tablespoons for a very large batch of rice!)
3) Use veggies:
This is one of my big pet peeves with lame take-out fried rice — not enough veggies! In addition to adding some nice spots of color, veggies go a
long
way in adding some flavor and freshness to fried rice. Our local chinese restaurant always added both white and green onions, too, which I included in this recipe.
4)
Use sesame oil and oyster sauce:
Ok, if you're
really
squeamish about seafood, you can leave out the oyster sauce and your fried rice will still be great. But this ingredient makes such a difference in good fried rice, and a little goes a long way. Sesame oil, on the other hand, is 100% non-negotiable. It is my favorite smelling ingredient in my kitchen, and tastes even better. There as well, a little goes a long way. (And it is meant as a finishing oil, not a cooking oil, so remove the pan from the heat once you've added it.)
5) Take time to actually FRY the rice:
A.k.a. — take time to let it actually cook for awhile and brown a bit in the pan. So many fried rice recipes have you just stir in the rice and (voila!) you're done. But I've found that actually sauteing the rice for a little while with the veggies helps to get that classic "fried" flavor and pulls all of the ingredients together.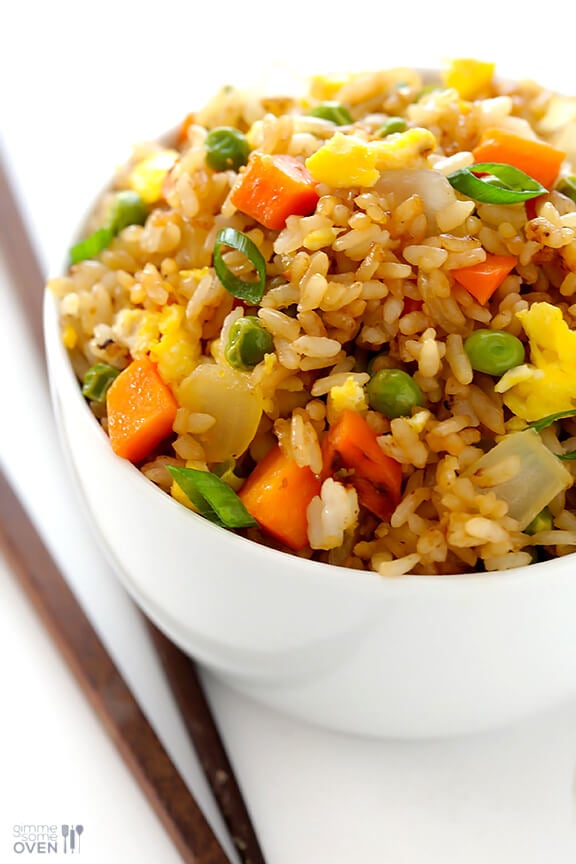 None of these points are rocket science. But man, do they make a difference when it comes to restaurant-style (or
better
than restaurant-style!) fried rice.
Alright, here's the official how-to: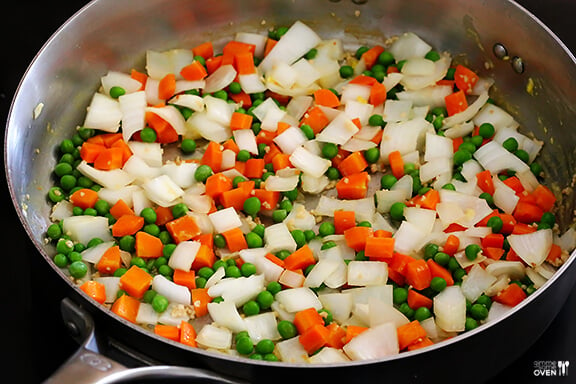 Ok, I forgot to take a photo of the first step: the eggs. Scramble/fry the eggs in a bit of butter.
Then saute some onions, carrots, peas and garlic in a little more butter. (Don't freak out, we're only up to 1.5 tablespoons at this point.)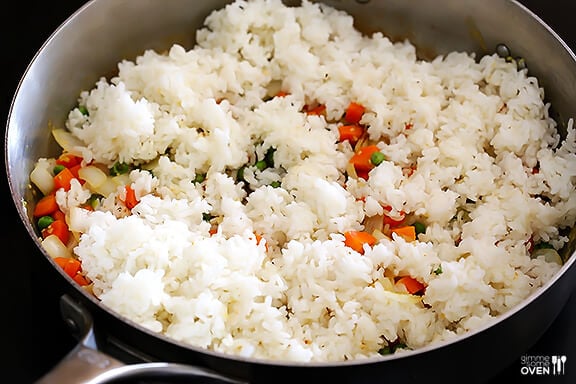 Once your veggies are nice and cooked, add the rice, soy sauce, and oyster sauce (if using). Again, chilled rice is
key
here. Stir it in with the veggies until it is combined. Then continue to saute it over high heat for an additional 3 minutes or so until you notice the rice starting to brown just a tiny bit.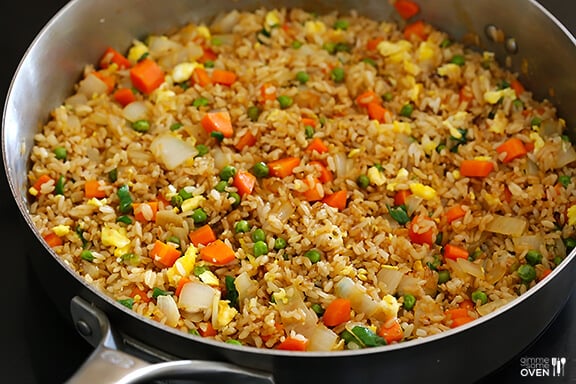 Once the rice has been fried, stir in your green onions and sesame oil, along with the scrambled eggs. And then give it a taste, and add any additional pepper or soy sauce if needed.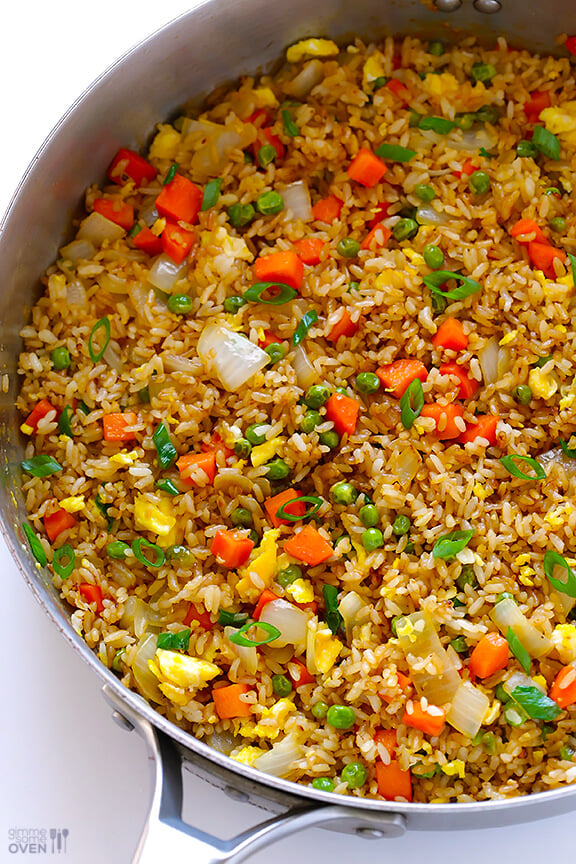 Again, if you are a chicken fried rice fan…or pork fried rice…or shrimp fried rice…feel totally free to saute up your protein in advance and add it back in at this point. But I will tell you that — hi-ho-the-dairy-o — this plain rice can
definitely
stand alone too.
Oh yeah, and did I mention it only takes 15 minutes to make? Take out, shmake out. This recipe will be ready to go in
no
time. Enjoy!!!
YIELD: ABOUT 4 SERVINGS
FRIED RICE
Learn how to make fried rice with this classic fried rice recipe. It tastes even better than the restaurant version!
PREP:

5 MINS COOK:

10 MINS TOTAL:

15 MINS
INGREDIENTS:
3 Tbsp. butter, pided
2 eggs, whisked
2 medium carrots, peeled and diced
1 small white onion, diced
1/2 cup frozen peas
3 cloves garlic, minced
salt and pepper
4 cups cooked and chilled rice (I prefer short-grain white rice)
3 green onions, thinly sliced
3-4 Tbsp. soy sauce, or more to taste
2 tsp. oyster sauce (optional)
1/2 tsp. toasted sesame oil
DIRECTIONS:
Heat 1/2 tablespoon of butter in a large skillet over medium-high heat until melted. Add egg, and cook until scrambled, stirring occasionally. Remove egg, and transfer to a separate plate.
Add an additional 1 tablespoon butter to the pan and heat until melted. Add carrots, onion, peas and garlic, and season with a generous pinch of salt and pepper. Saute for about 5 minutes or until the onion and carrots are soft. Increase heat to high, add in the remaining 1 1/2 tablespoons of butter, and stir until melted. Immediately add the rice, green onions, soy sauce and oyster sauce (if using), and stir until combined. Continue stirring for an additional 3 minutes to fry the rice. Then add in the eggs and stir to combine. Add the sesame oil, stir to combine, and remove from heat.