Even though the holidays get super busy for us, there is one thing I ALWAYS make time for… Homemade Sugar Cookies! I remember making them with my Mom every year when I was little, and it's something I really look forward to each year with my kiddos too. There is one recipe that I've found makes the
PERFECT Sugar Cookie Cut-outs
every time, and I couldn't let this Christmas go by without sharing it with you! If you're planning on making cookies for the holidays, you definitely need to give this recipe a try!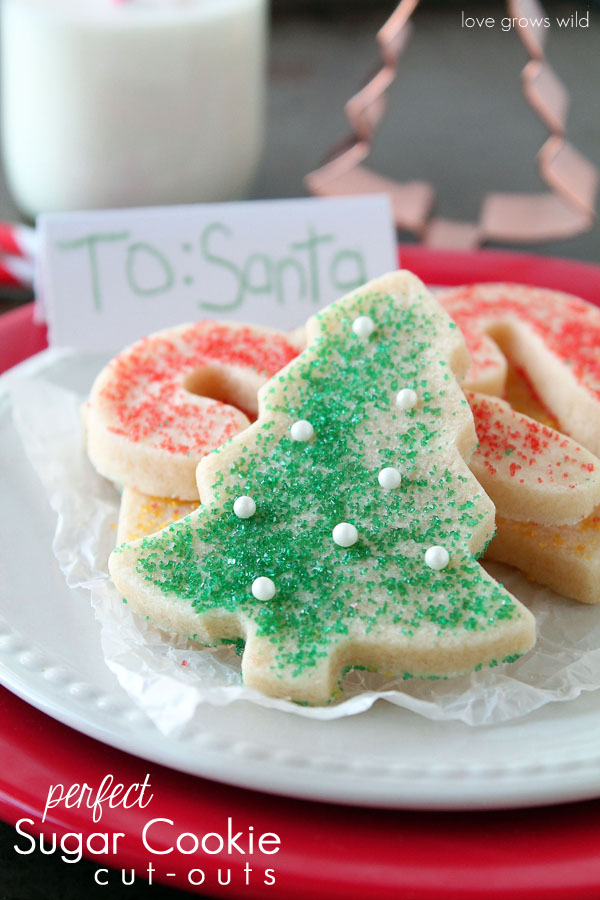 There's something I think you guys need to know about me… I'm fairly confident I can cook just about anything you throw my way, but baking… that a whole other story! Once I moved out of my Mom's house, I learned real quick that I'm not the world's best baker. I tried baking my son's first birthday cake with fancy fondant decorations and needed my little sister to help me finish it minutes before the party started. I've managed to ruin more batches of cookies than I can count and
hate
messing with melted chocolate desserts. I can bake… but I just can't deal with "fussy" baking. Do you know what I mean?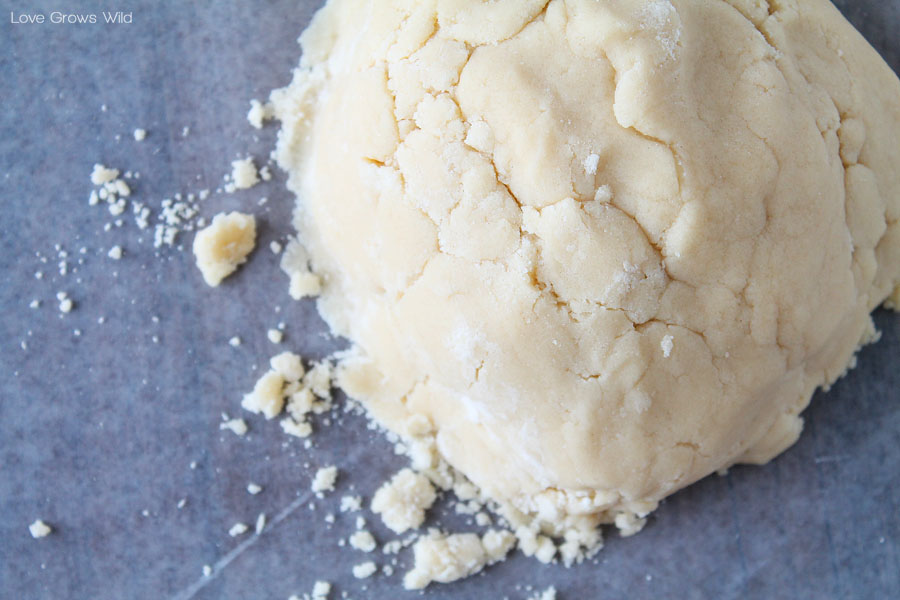 I've learned over the years the type of desserts that I can tackle and the ones that are better left to the pros, so I want you to know that when I share a dessert recipe with you… It's one you can DEFINITELY do! These sugar cookies are the PERFECT example of that! My past attempts at sugar cookies were pretty miserable, and I nearly gave up and bought a package of store-bought cookie dough to save me the angst. But then I discovered the secret to making perfect, easy sugar cookie cut-outs, and it's something I look forward to baking every year!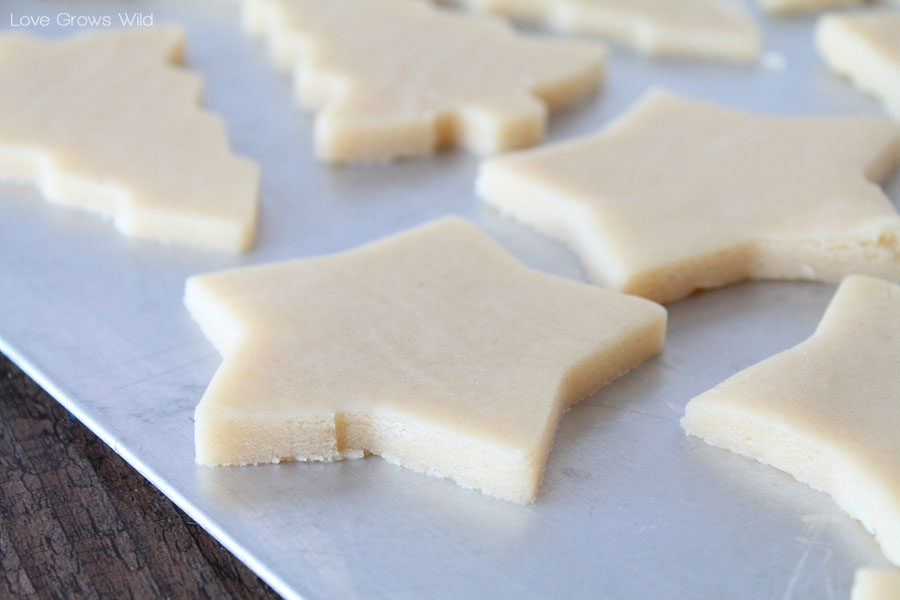 I know the basic recipe for sugar cookies is pretty universal across the board, but there's a few things that set mine apart. First, almond extract. Vanilla is a
must
when you're making sugar cookie dough, but the addition of a little almond extract gives the cookies a unique flavor that I just love. So good!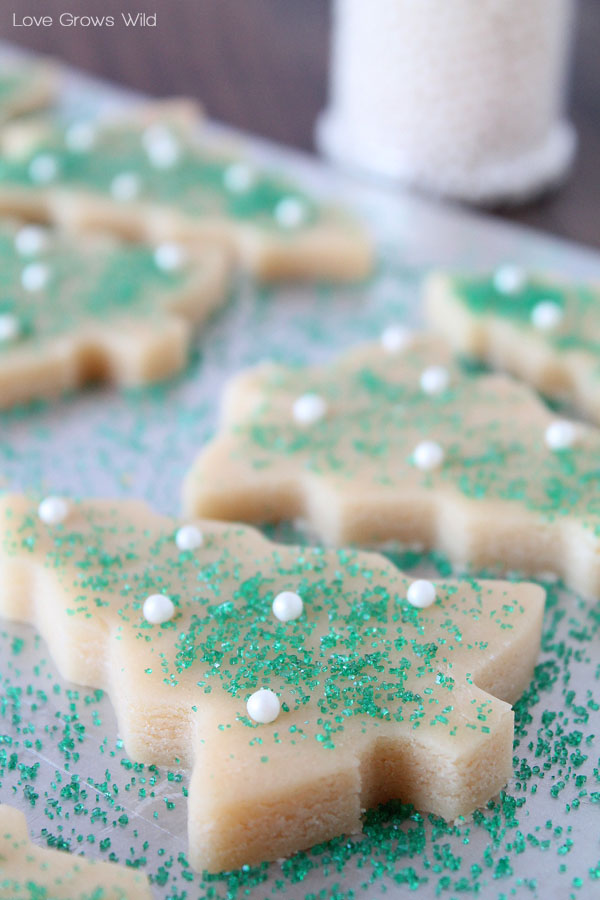 The second thing that sets this recipe apart is the method for cutting out the cookies. Normally, you make the dough, put it in the refrigerator to chill, roll it out, and cut it with cookie cutters. But for whatever reason, I can NEVER get this process to go right! The dough sticks to the rolling pin, I can't get the dough out of the cookie cutters, and I end up an angry, frustrated mess of flour and dough. Not fun!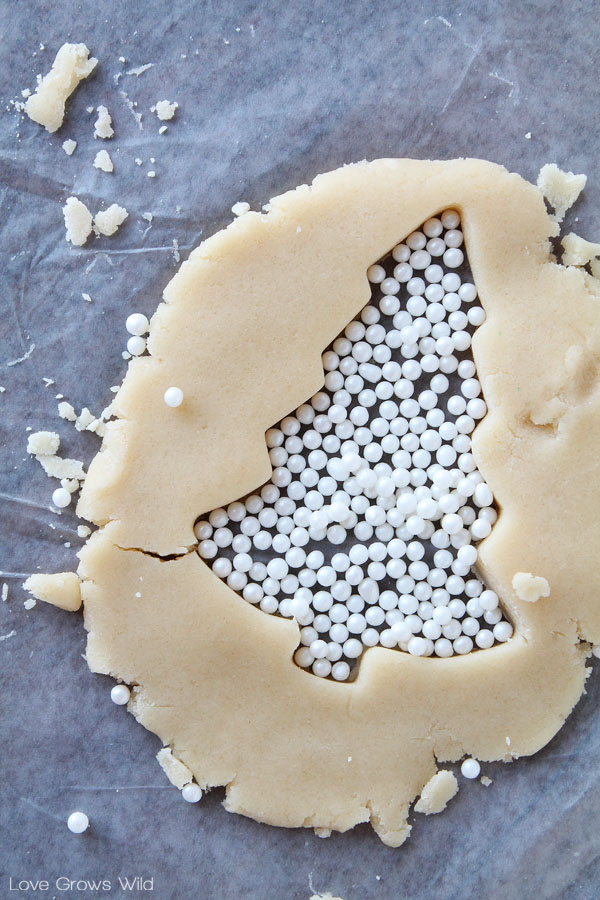 So do you want to know the secret to making the perfect cookie cut-outs? It's so easy! Once you make the dough, roll it out BEFORE chilling it in the refrigerator between two sheets of parchment or wax paper. The parchment protects it from sticking to anything, so there's no need to add extra flour. AND you don't have to wrestle with the dough after it's already been chilled! Just pull it out of the fridge, and you can cut perfect shapes with your cookie cutters! Another bonus of this method, the dough only needs to chill for about 20-30 minutes since it's rolled out instead of in a big ball of dough. I cannot tell you how much I LOVE this method of making sugar cookies! Oh, one more thing: make sure to only let your cookies cool about 5 minutes on the baking sheet before transferring to a cooling rack to finish cooling. That way they won't overcook and will stay nice and tender. It really does make a difference!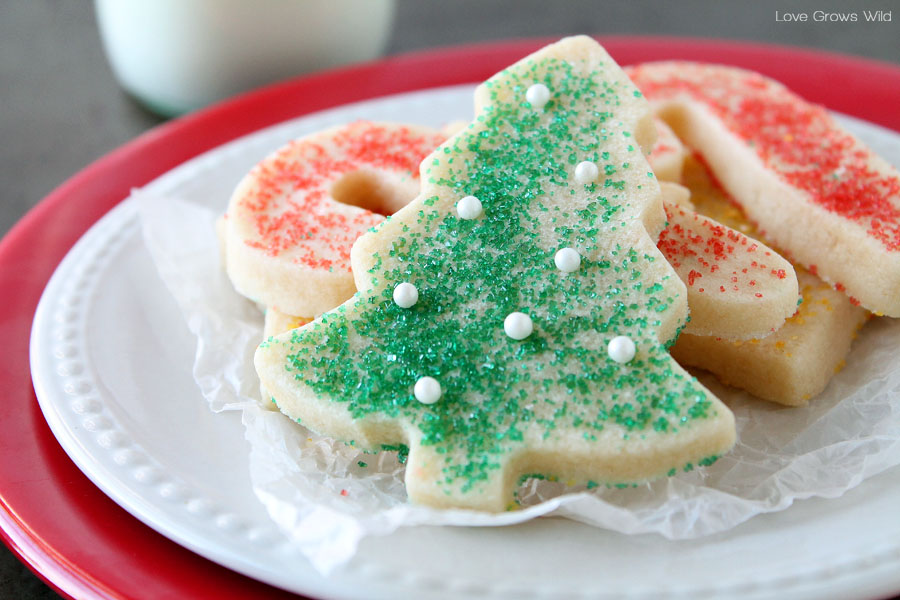 I like to decorate my cookies very simply with colored sugars
(remember, I don't do fussy baking!)
, but you can decorate with icing or whatever your heart desires! One bite of these incredible cookies and you will never make them any other way again! They are
perfectly
tender with just the right amount of sugar. I just love the texture of the cookies! I cannot say enough about how perfect these cookies are, so you'll just have to try them yourself! Promise me you will try them this Christmas! P.S. Santa will LOVE them too!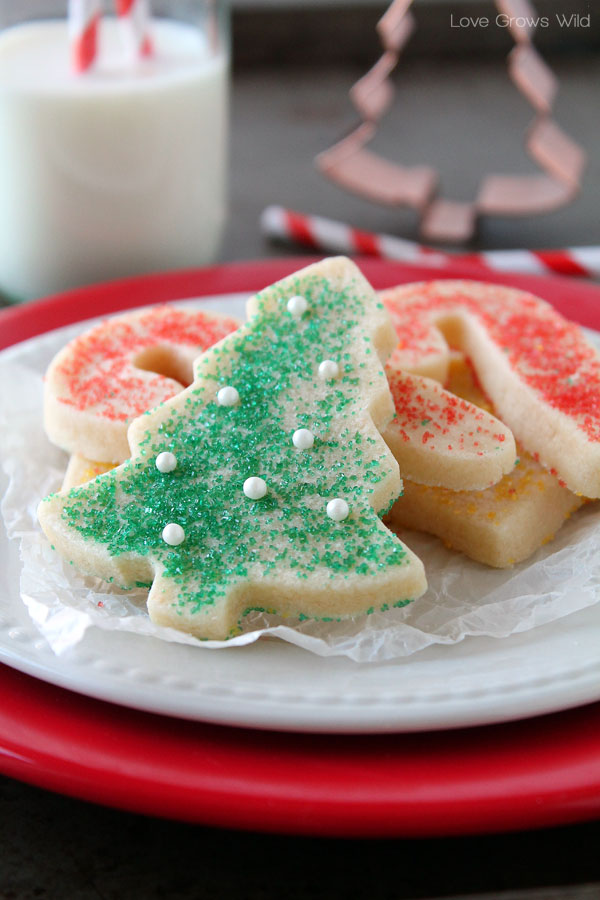 Perfect Sugar Cookie Cut-outs
Prep time
25 mins
Cook time
10 mins
Total time
35 mins
This recipe makes the PERFECT Sugar Cookie Cut-outs! The cookies turn out so tender and delicious using this easy method!
Author:
Liz Fourez
Recipe type:
Dessert
Serves:
40-50 cookies
Ingredients
1 cup unsalted butter, room temperature
1¼ cup sugar
1 egg
1½ teaspoons vanilla extract
½ teaspoon almond extract
3 cups of flour
1½ teaspoons baking powder
¼ teaspoon salt
colored sugars for decorating
Instructions
In a large mixing bowl, cream together butter and sugar until light and fluffy, about 2 minutes. Add in egg, vanilla extract, and almond extract and mix until combined.
In a separate bowl, combine flour, baking powder, and salt. Make sure to spoon the flour into your measuring cup and level it off with a knife to ensure accurate measurements. Slowly add the flour mixture to the butter mixture and mix until completely combined.
Roll the dough between 2 sheets of parchment or wax paper and place on a baking sheet in the refrigerator. Chill for about 20-30 minutes.
Cut dough into shapes with cookie cutters and transfer to a baking sheet. Sprinkle with colored sugars and bake at 350 degrees for 8-12 minutes. Cool on baking sheet 5 minutes, then transfer to a baking rack to cool completely. Store in an airtight container. Makes about 40-50 cookies.
Notes
For this recipe, the dough only needs to chill about 20-30 minutes in the refrigerator since it is already rolled out. If you would rather chill the dough first before rolling, you'll want to increase the chill time to about an hour.
Using the parchment paper is a great tip for rolling the dough, because it eliminates the need to add extra flour to keep it from sticking.
My cookies were done baking in 9 minutes, but check yours closely. You want them to be just barely set and not yet browned. They'll seem slightly undercooked right out of the oven, but will firm up nicely once cooled. 9 minutes seemed to be the sweet spot for me!
Once the cookies come out of the oven, only let them stay on the baking sheet for about 5 minutes, or just until you're able to carefully slide a spatula underneath the cookies without breaking them to transfer to a cooling rack. Letting the cookies stay on the baking sheet any longer will dry them out, making them less soft and tender.