It's easy to fall in love with this small family home with inspiring interiors. Built by Witt Construction, this home has everything we dream of having, from a dream off-white kitchen to cozy nooks and window-seats.
This storybook-like home, once was an award winner and known as the"2013 Parade of Homes Granger Cottage" was designed with family living in mind. The house perfectly mixes classic architectural design with modern amenities. You will notice how the rooms beautifully flow from one to the other, with a soothing color palette and comfortable textures.
And if you're looking for interior ideas for your own family home, take note on paint colors such as the ever popular "Revere Pewter HC-172 by Benjamin Moore", and many home decor sources.
I hope you have a great time here!
Small Family Home with Inspiring Interiors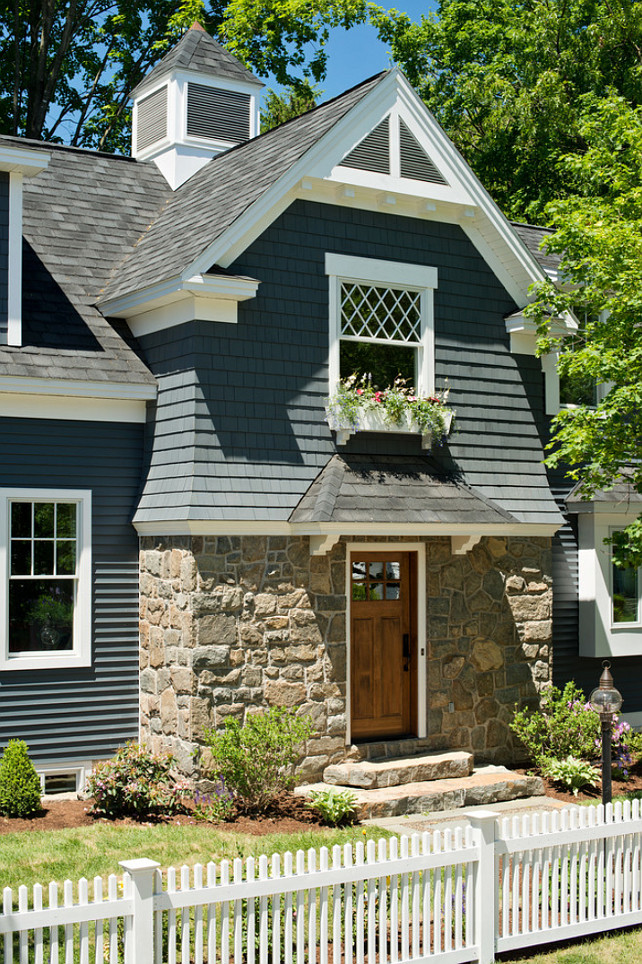 Isn't it the perfect "Home-Sweet-Home"! It even comes with picked-fence! I also love the shingles, roof line and the natural stone. Great combo!
Window Box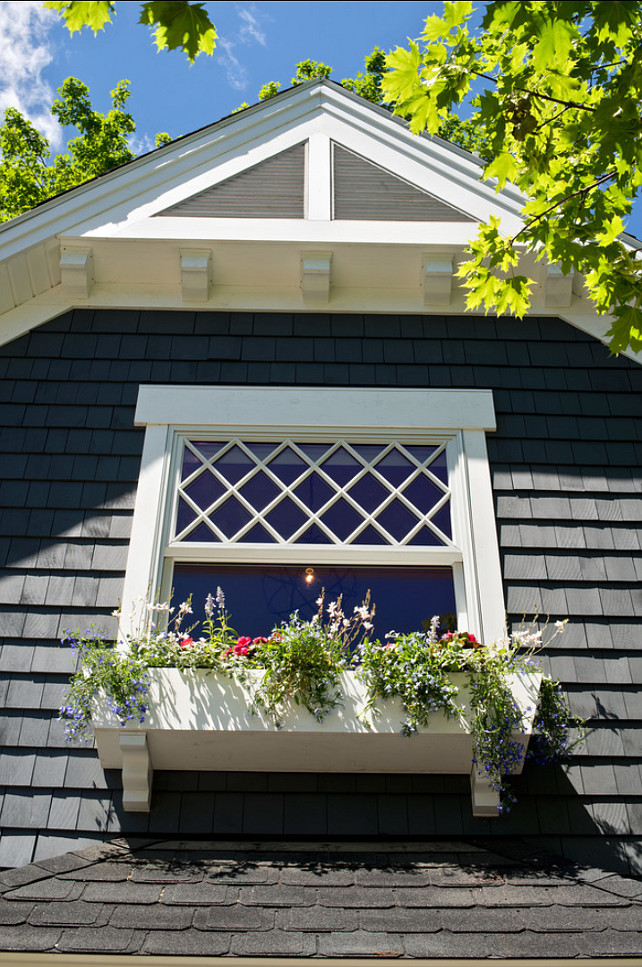 Window box planters always add charm to any facade.

Landscaping Ideas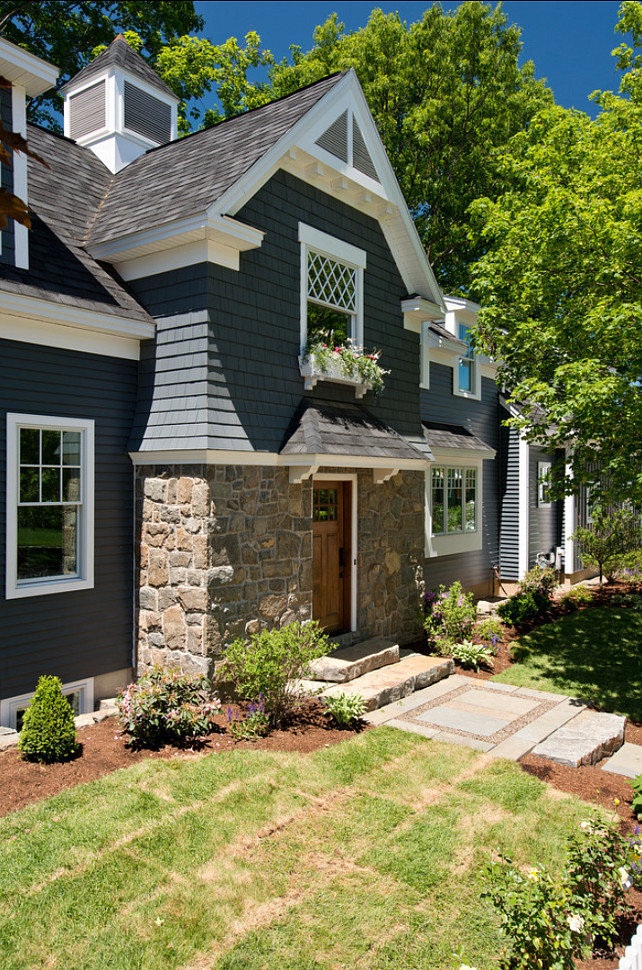 The landscaping is perfect! This proves you don't need too much land to have a beautiful garden.
Paint Color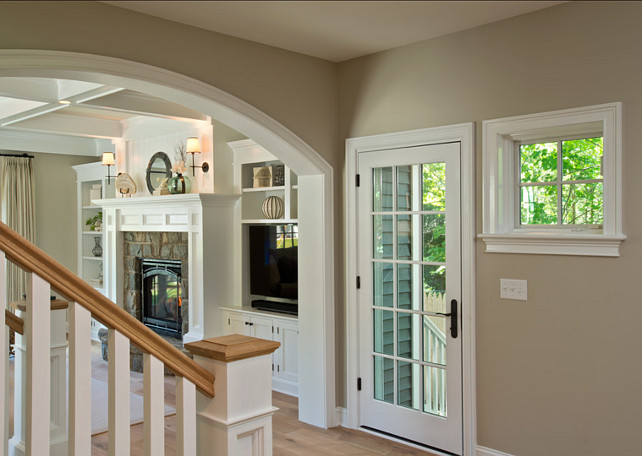 … And here comes one of the Best Selling Benjamin Moore Paints: "Revere Pewter HC-172 by Benjamin Moore".
Living Room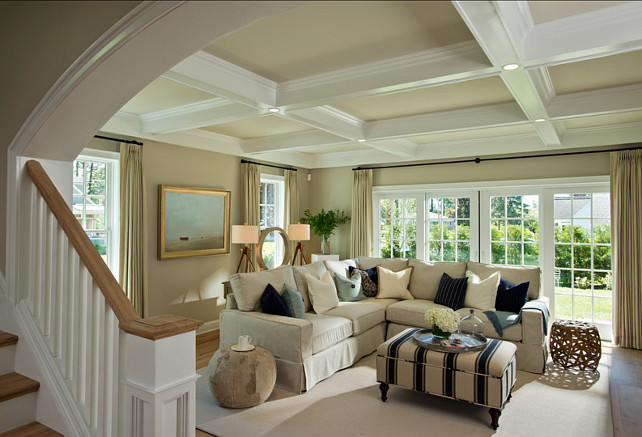 The living room feels harmonious and very inviting. I love the furniture and accessories in this room.
The Sectional is from Pottery Barn in the The Sectional is from the Comfort Series, Textured Basketweave, Color Flax. The ottoman is from Ballard Design. Fabric is from Kravet fabrics.

Pillows are a mix of Custom Ralph Lauren Fabrics (Navy Pin Stripes) , Pottery Barn, William Sonoma Home.
The Hardware is from "Paris Texas" in the NOIR finish. Drapes are Custom in a 100% Linen Fabric.
Room Dimensions: The Ceiling is 9′ . The room is 17'w x 20′ L.
Paint Color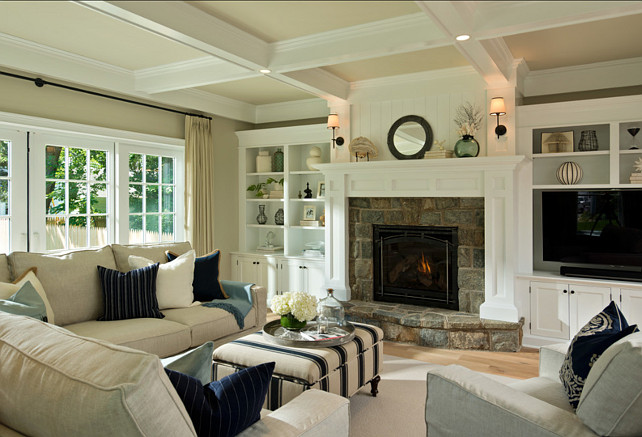 Paint Color: Trim & Built-ins: "Sherwin Williams SW 7006 Extra White" in High Gloss.
Sconces are the "Bryant Sconce by Thomas O'Brien".
Off-White Kitchen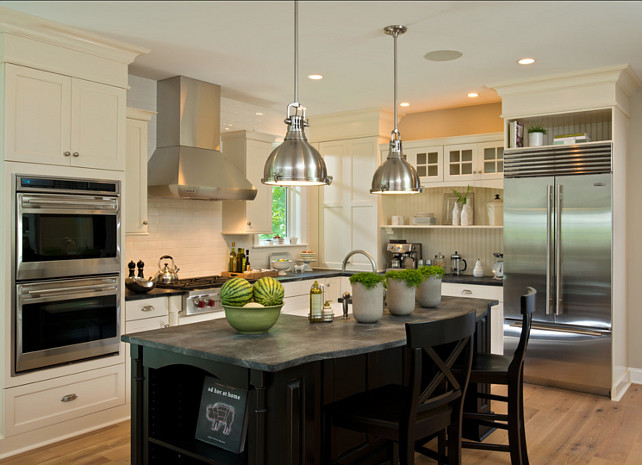 I am in love with this off-white kitchen. It's perfect for family living. It's warm, inviting and very practical.
Island Pendants are from Hudson Valley Lighting.
Kitchen Cabinet Paint Color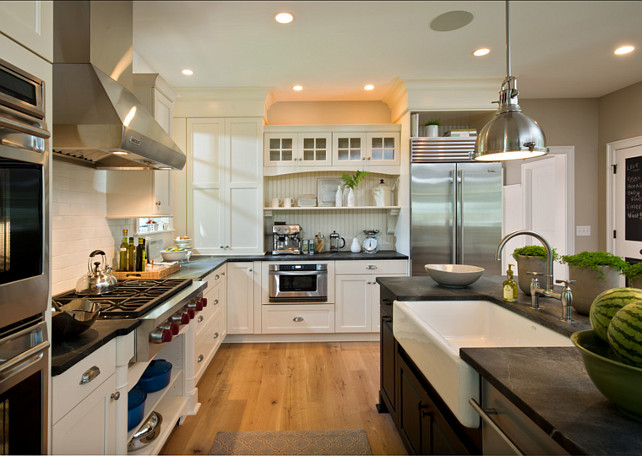 Kitchen Cabinet Paint Color: "Sherwin Williams SW 6119 Antique White".
Kitchen Countertop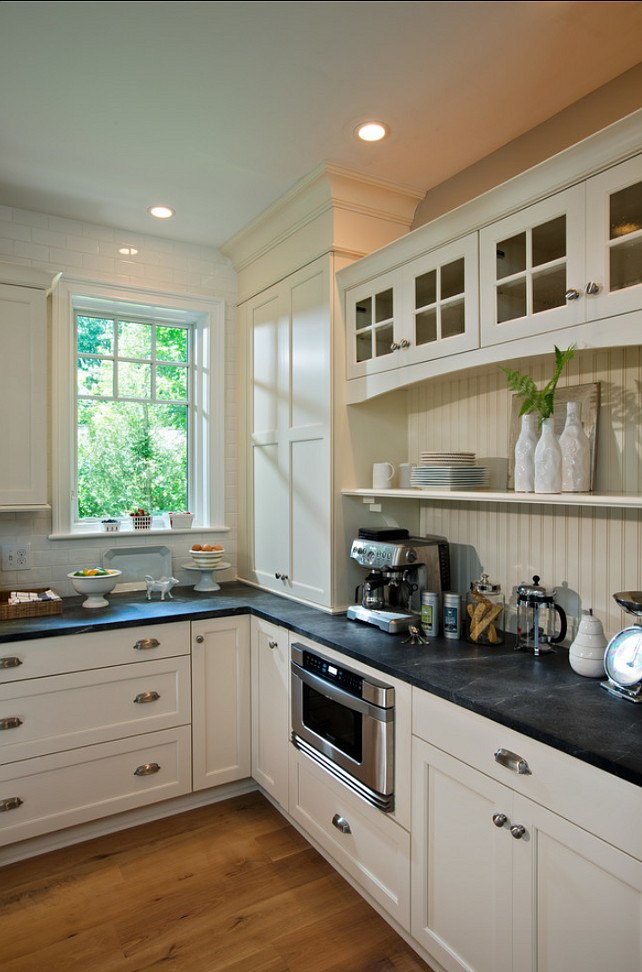 Countertop is honed gray soapstone.
Smart Kitchen Design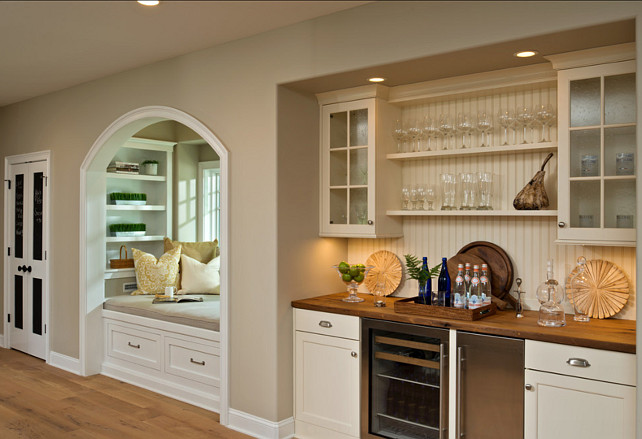 On the other side of the kitchen, you'll find a dreamy nook and a very practical butler's pantry.
Nook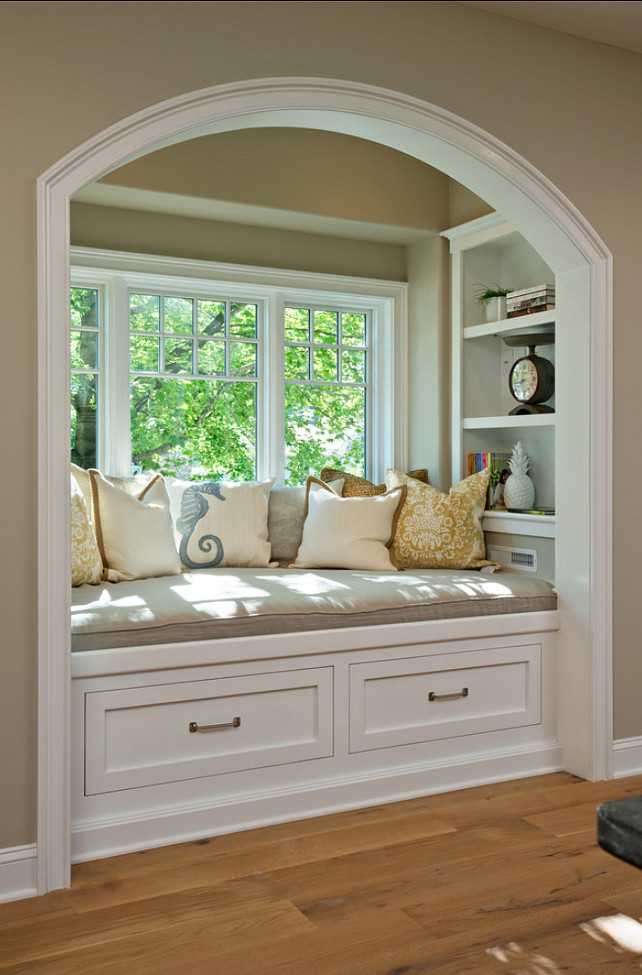 This reading nook is one of the things I loved the most about this house! What a neat idea!
Me-Time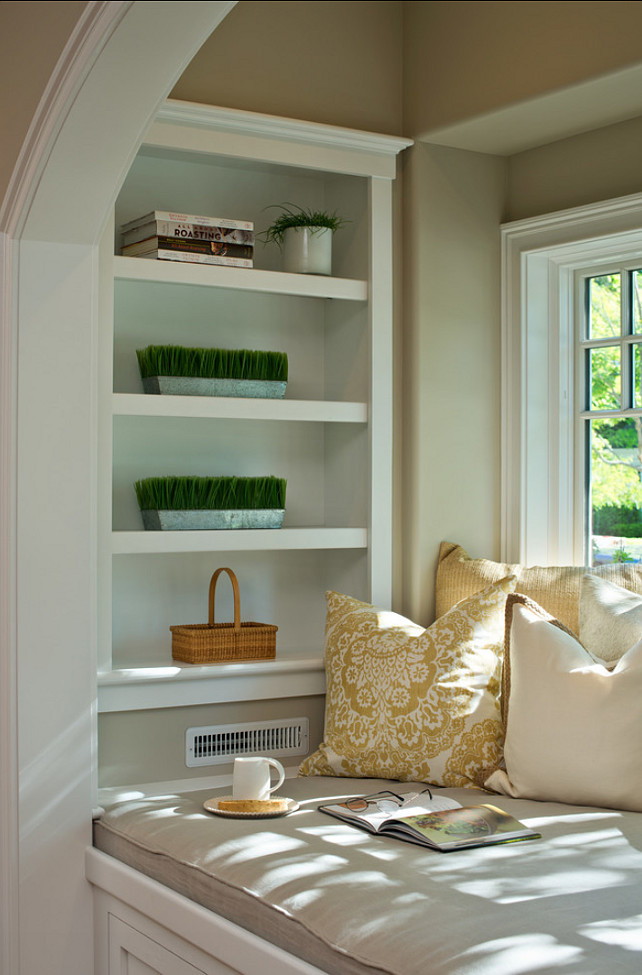 Can you imagine having a cup of coffee here every morning?

Butler's Pantry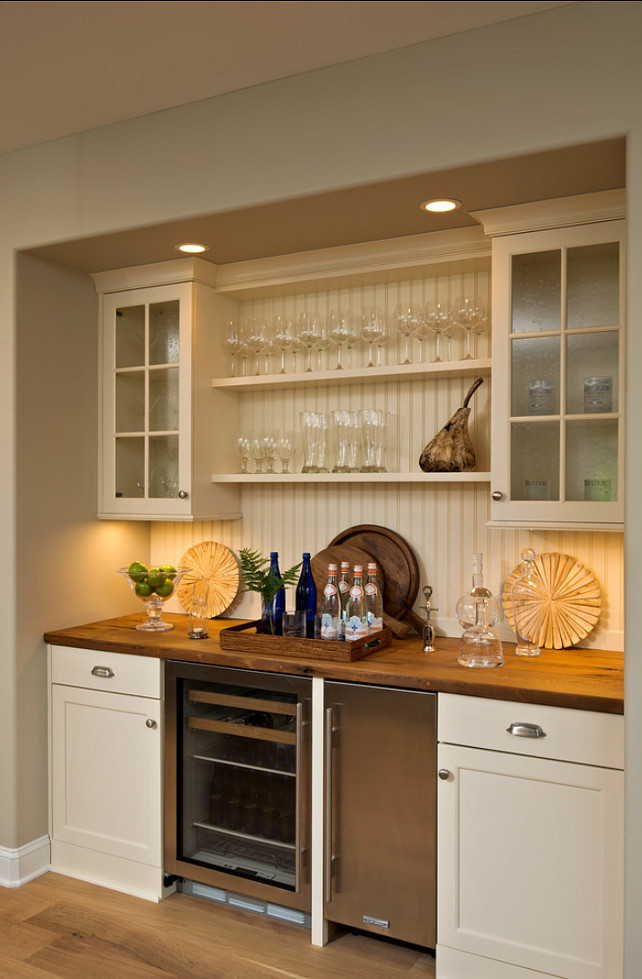 The butcher block countertop goes perfectly with this cabinet color.
C
halkboard Paint Ideas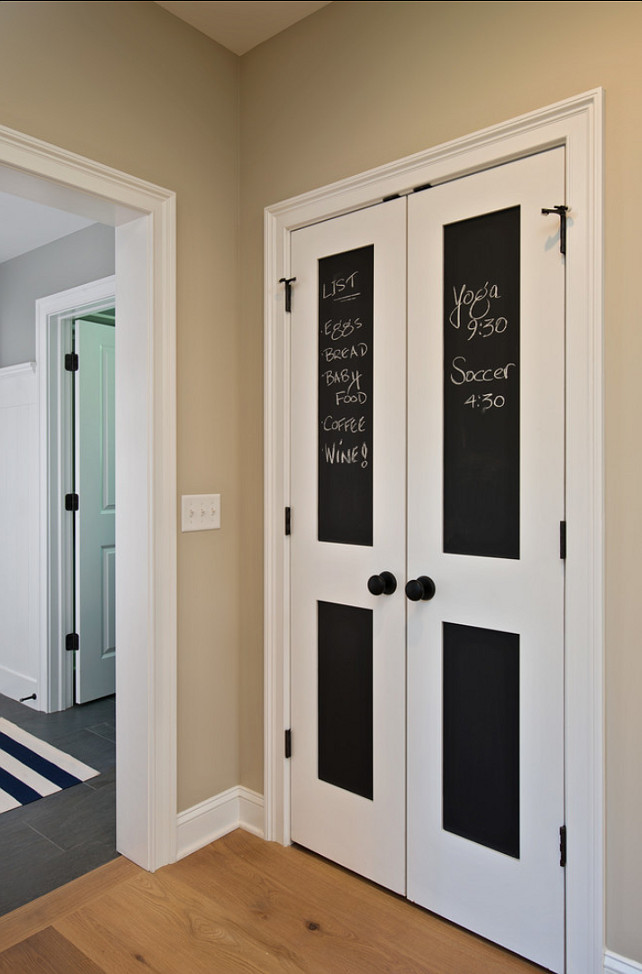 Don't you also love chalkboard paint? You can have so much fun with it!
Eating Area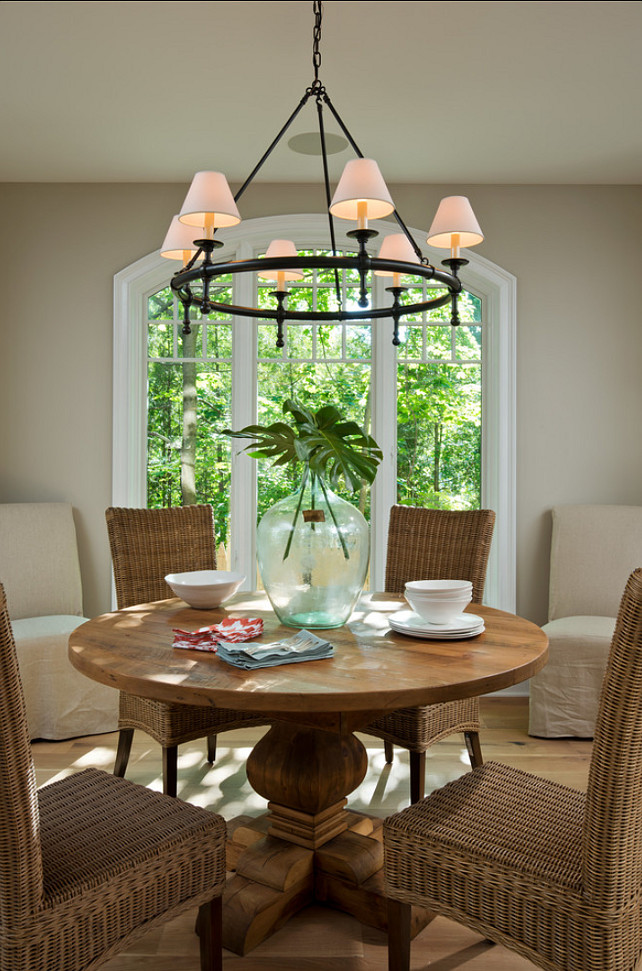 Simple, clean and uncomplicated. If you have kids, you know this is the kind of interiors you want to live with!
Mudroom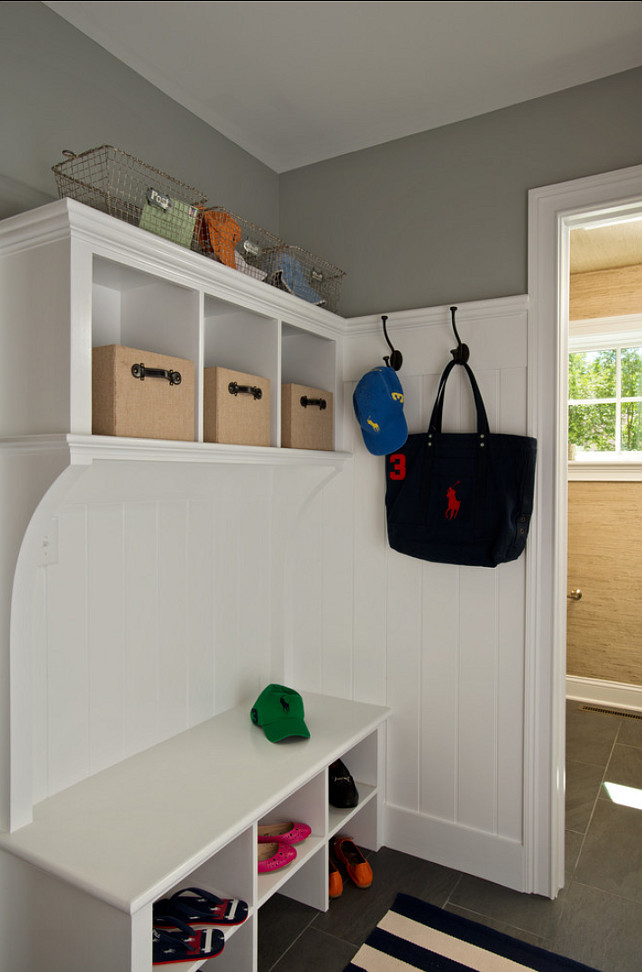 My project for this summer? Create more storage space in my mudroom. This is essential if you want to keep the rest of your house clean organized!
Wall Paint Color: Paint: "Sherwin Williams 7065 Argos".
Powder Room
This powder room is small, but very well-designed. I really like the grasscloth wallpaper and the pendant.
Laundry Room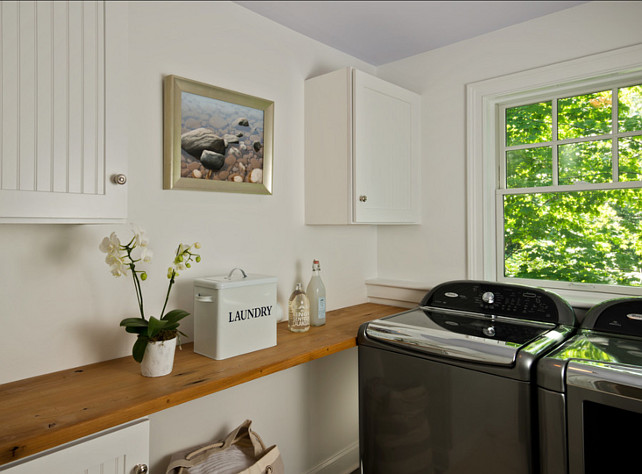 Nothing is better than an efficient laundry room (ok, maybe there are other things better than that, but you get the point…

).
This design allows some extra storage and the countertop can be used to fold laundry and even as an office.
Floors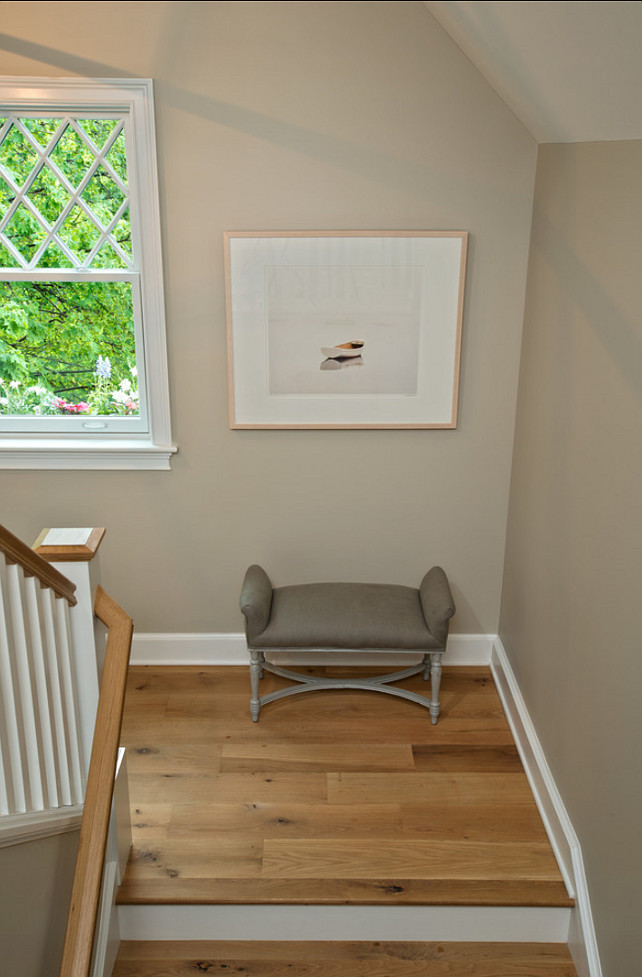 Floors are white oak with an white oil finish.
Home Office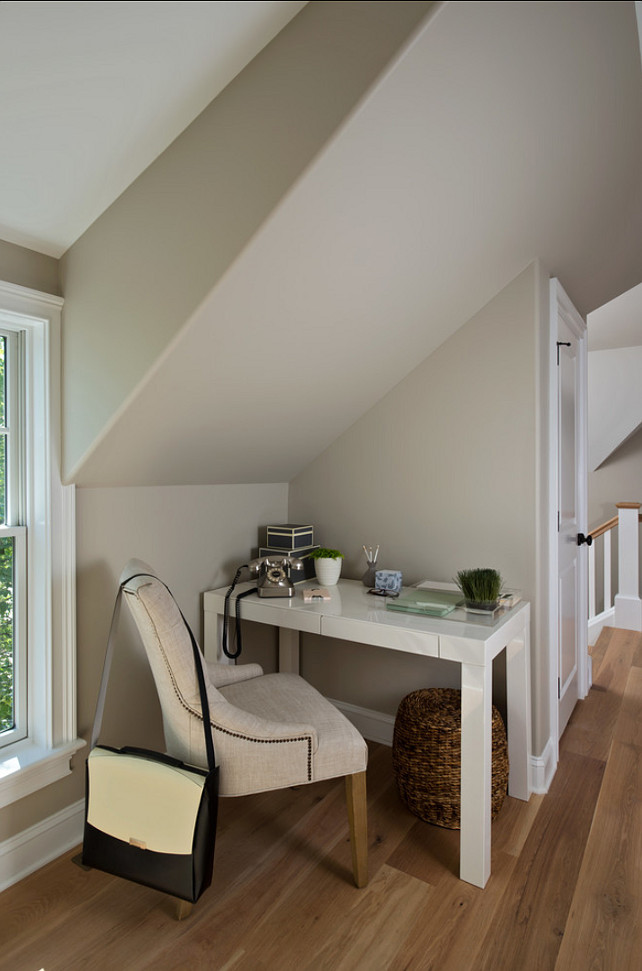 I like the idea of using the landing area as a small home office.
Sitting Area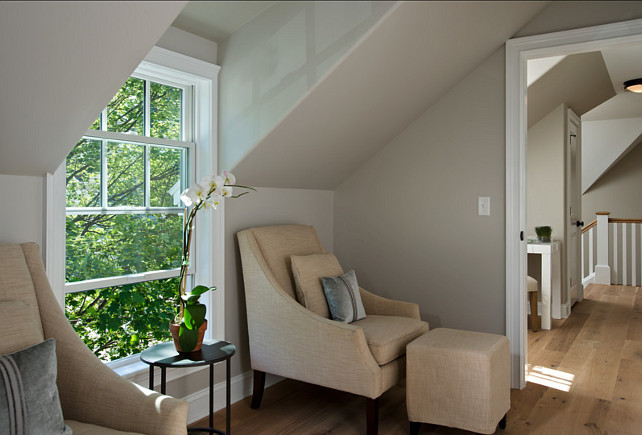 This is a relaxing area… perfect to read a book!
Bedroom Paint Color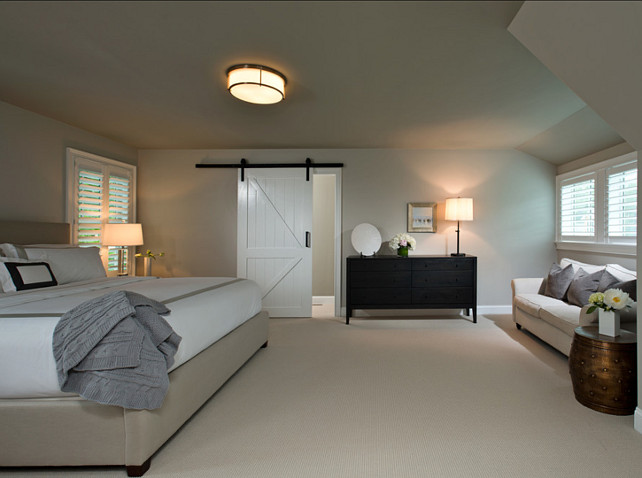 The master bedroom feels serene and quiet. I like the paint color and the unexpected barn door to the closet.
Paint Color: "Sherwin Williams SW 7015 Repose Gray" .
Window-seat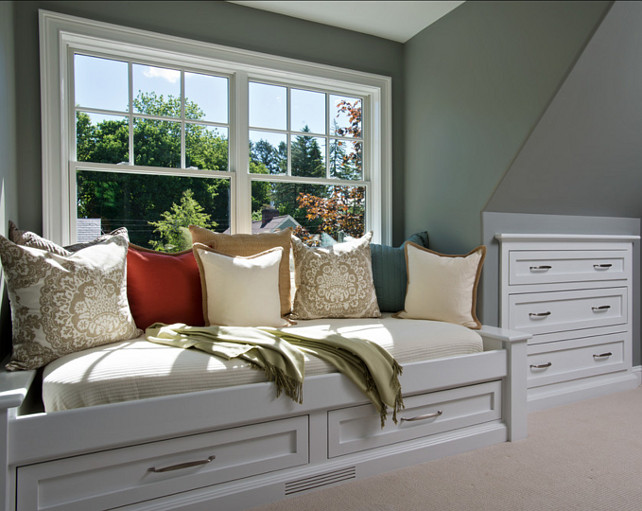 Adding built-ins will not only add storage, but also value to your home.
Bathroom
Nothing is too complicated in this bathroom and I like that!
Flooring: Black Slate Tile.
Gender Neutral Nursery Ideas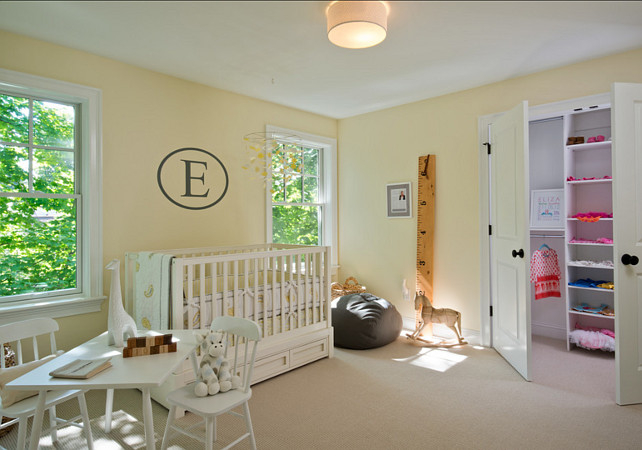 How sweet! This nursery is just perfect. I love the yellow wall color. It's very soothing.
Crib is the "Skylar Fixed Gate Crib" from Pottery Barn Kids.
Wall Paint Color: "Sherwin Williams SW 7556 Creme".
Small Bathroom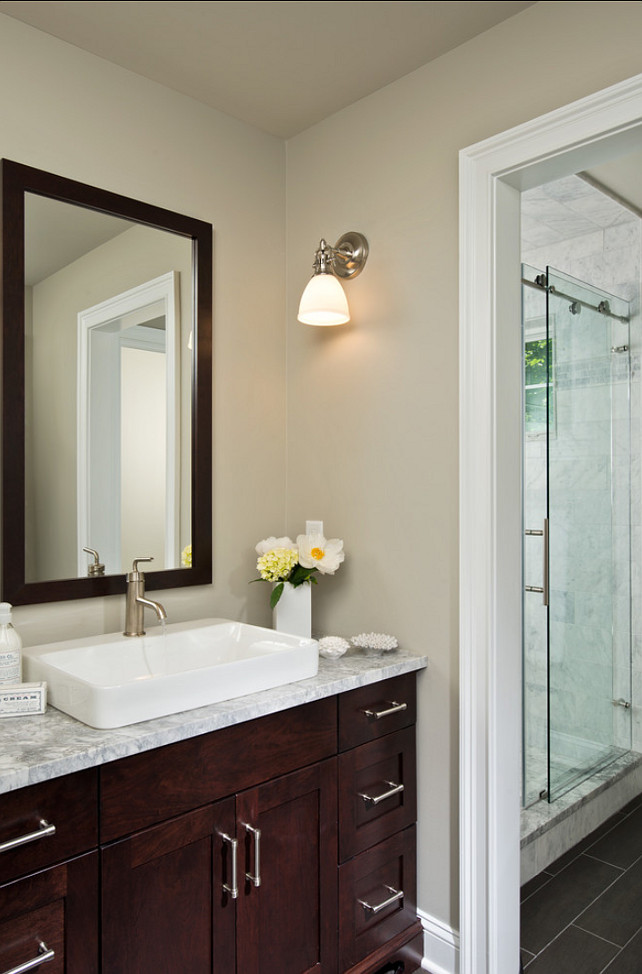 Nicely done.
Shower Design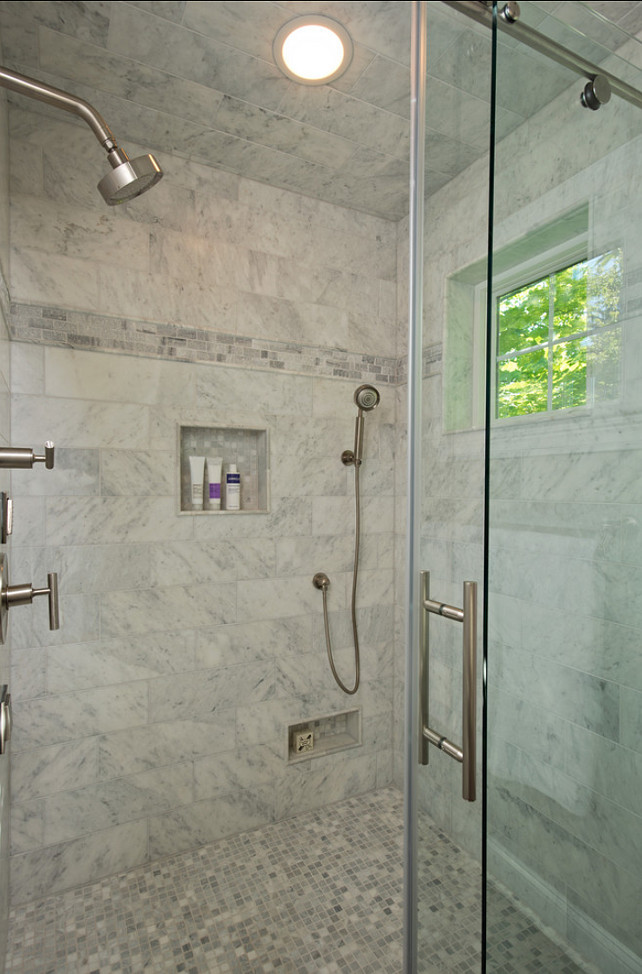 Great shower design with sliding doors.
Patio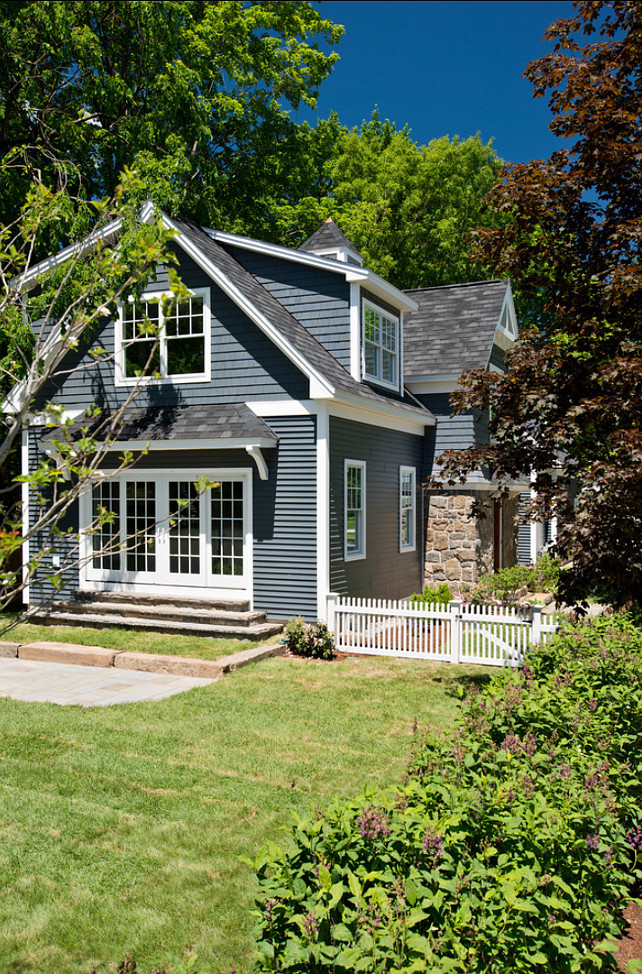 A view of the patio, back door and fence.
Backyard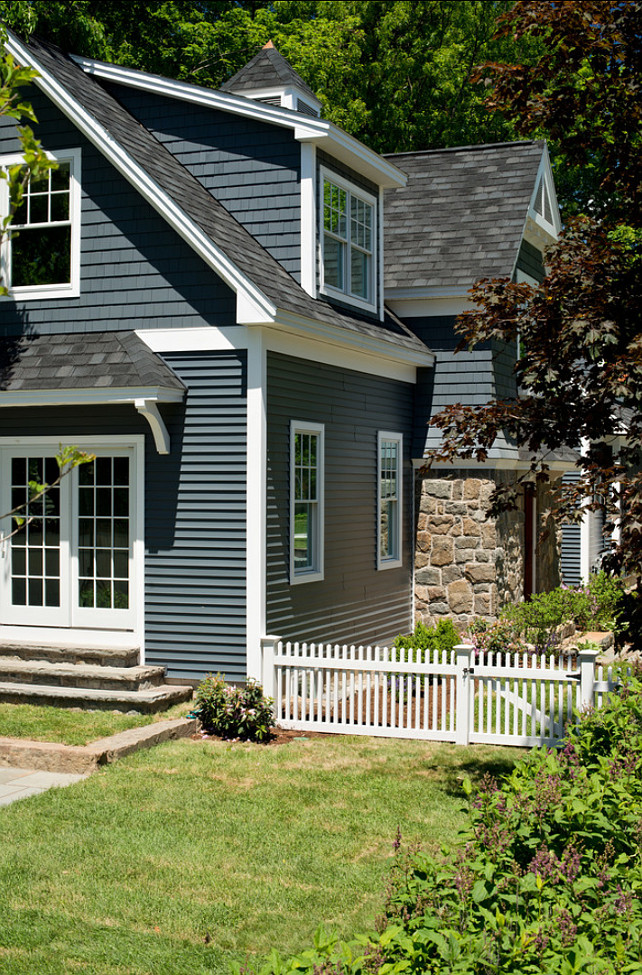 This lot is small but was beautifully landscaped.

Picket-Fence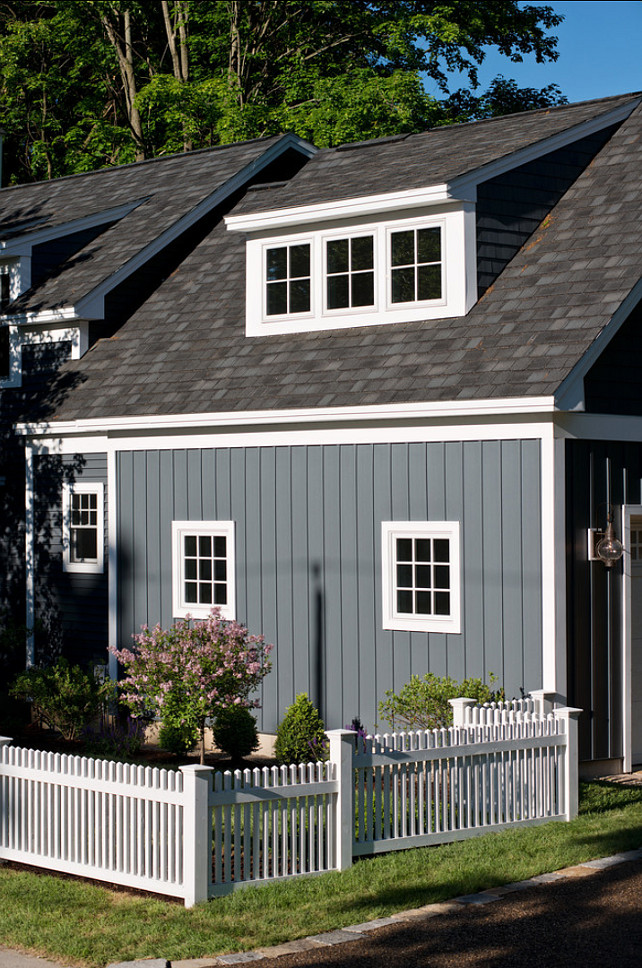 Can it get any better than this? Picked-fences always add so much charm!
Siding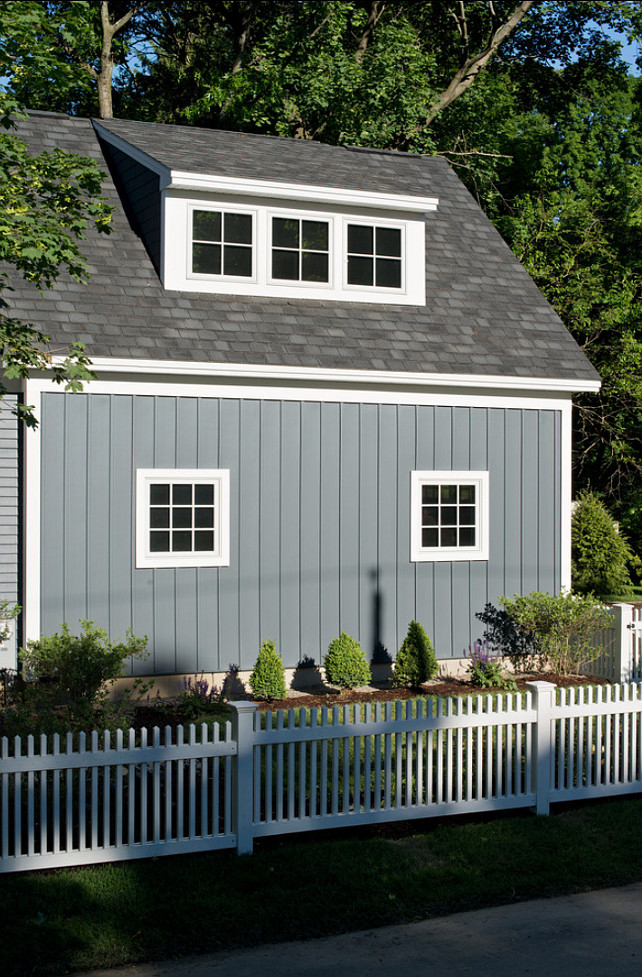 Beautiful board & batten siding.
Garden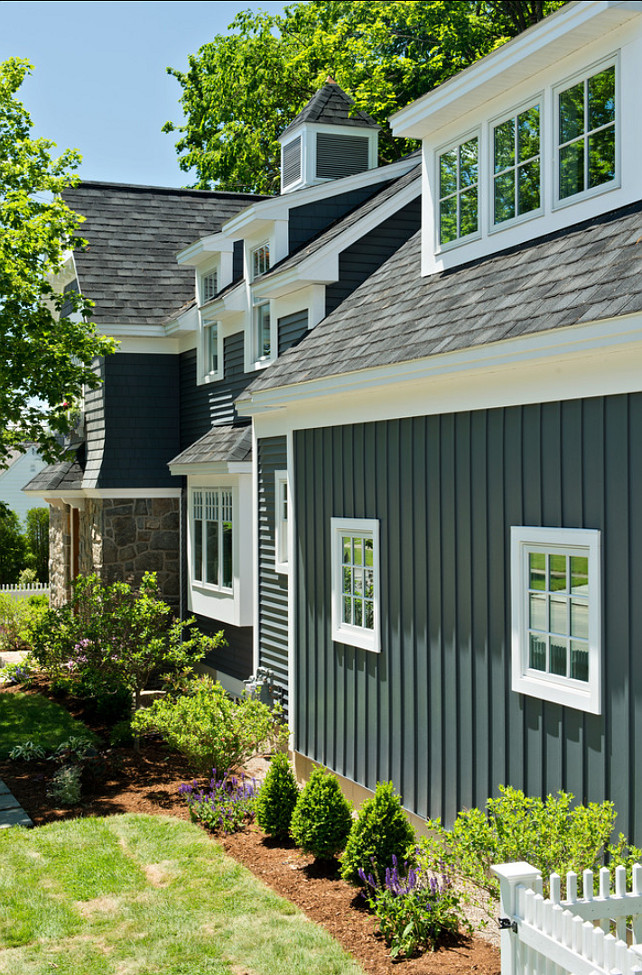 This is a lovely home. Beautifully designed inside and out. Note the planed garden.
Details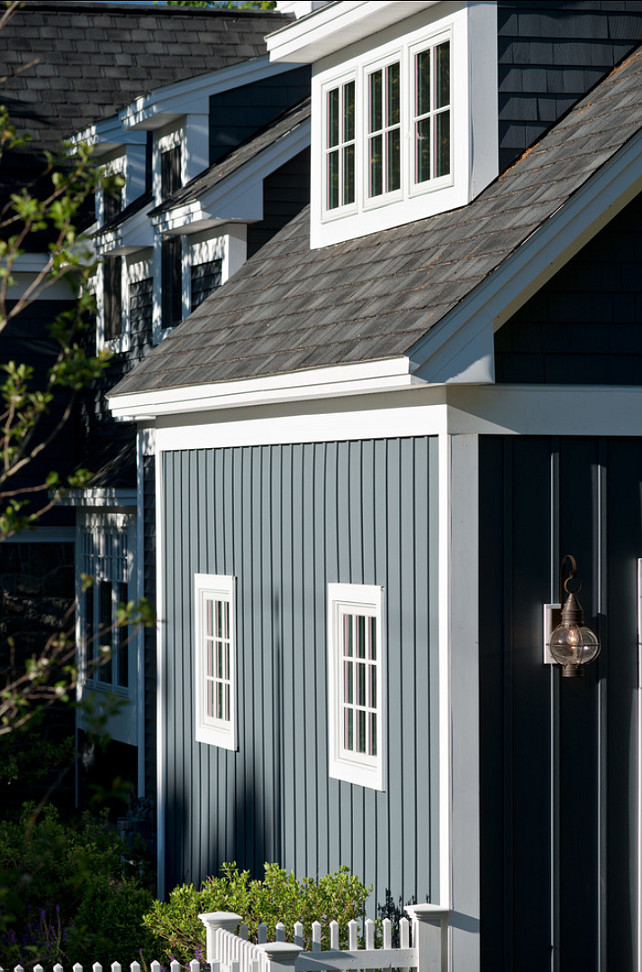 Nothing was overlooked in this home.
Garage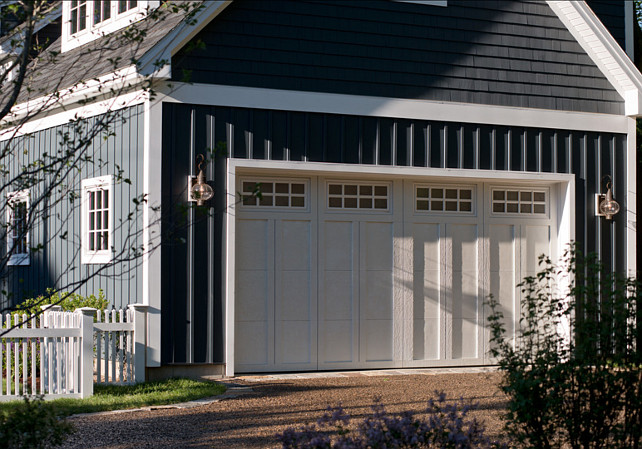 I really like the garage door and the light fixtures. Beautifully chosen.
Exterior Paint Color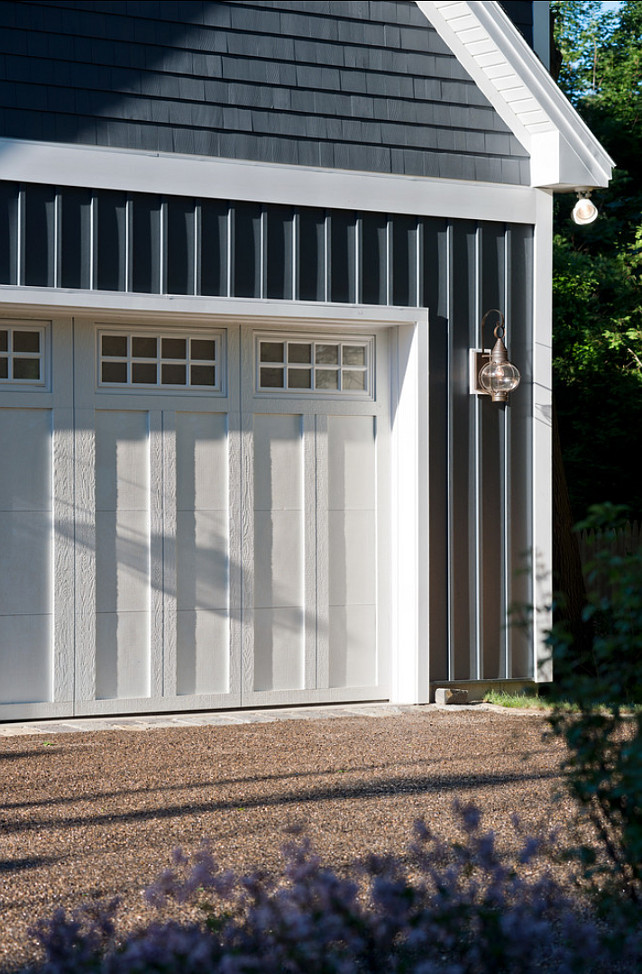 Similar Exterior Paint Color: "In the midnight hour by Benjamin Moore".
See more Inspiring Interior Design Ideas in my Archives.
What a great home! I am not sure about you, but seeing smaller homes always makes me believe even more that we don't need too space… we just need to be creative with the space we have!
I am living to go to the dentist in a couple of minutes, but I just wanted to share that I talked to my grandmother yesterday and I told her that I mentioned her here last week and so many of you told me you would pray for her health. I wish you could see her face… she was so happy and she put her hands together, looked up and thanked God!

She was grateful for your love.
Don't I tell you that, the more we share, the more we have?! Love only grows…
Have a wonderful and safe day, my friends!
See you again tomorrow!