This Chicken Parmesan Baked Ziti recipe only calls for 6 simple ingredients, and is ridiculously delicious and comforting.
Do you ever look at your life and wonder just
how
you came to be where you are today?
I had one of those moments in the kitchen this past week when I was making this chicken parmesan baked ziti.
Granted, any baked pasta dish always brings me back to my college days when my roommates and I basically lived on pasta bakes night after night after glorious night. I can distinctly remember my 20-year-old self, standing over a boiling pot of water, carefully reading the instructions on the back of that $1 package of cheap ziti, setting the oven timer for however many minutes the package prescribed, not having a
clue
what "al dente" actually meant. But whenever that timer went off, I would dutifully drain the pasta and toss it whatever jarred spaghetti sauce we had in the pantry and a bag of mozzarella shredded cheese, and pop it in the oven to bake.
Oh yes. Back then, this is what I considered a fancy home-cooked meal.
Well, if we
really
felt like going fancy and had a few dollars to spare, my roommates and I might toss in some
pepperoni
or maybe some of the powdered Parmesan we kept in the fridge. But most nights, it was simple pasta + sauce + cheese, and that was a
big
step up from what was being served in the cafeteria. And once it came out of the oven, you'd better believe that friends and roommates appeared out of nowhere to come help with the leftovers. :)
Fast forward a decade later, and I'm still making old-school pasta bakes, but I've learned a few things since. I can't remember the last time I needed to look at the instructions for how long to cook a bag of pasta, but I
do
look nowadays at the labels to see if there are clean ingredients inside. I'm also not anxious about trying to replicate the exact recipe, and instead feel confident tossing in whatever extra ingredients I might have on hand. I also now know the value of generously salting your pasta water, and the wonder of adding in some fresh basil. But a decade later, the motivation behind cooking remains the same — I love to make food and share it with people I love. Even if it's super simple, and perhaps no longer
quite
what I would consider "fancy". Good food is good food, and it is meant to be shared.
So today I'm sharing with you a modern recipe mashup I made for some friends. It's all of the goodness of chicken parmesan, turned into a baked ziti dish. I call it…(prepare yourself for the brilliance of the name)…
…Chicken Parmesan Baked Ziti.
The inspiration for this actually came from everyone's reaction to this
Chicken Alfredo Baked Ziti
recipe that I posted last month. Oh my goodness, you guys, this recipe
skyrocked
to the top of this blog's statistics and has stayed there ever since. I forgot how much the world loves baked ziti!
In my mind, this will always be called a simple college-style "pasta bake". But when you use ziti, I guess the classic name is apropos. ;)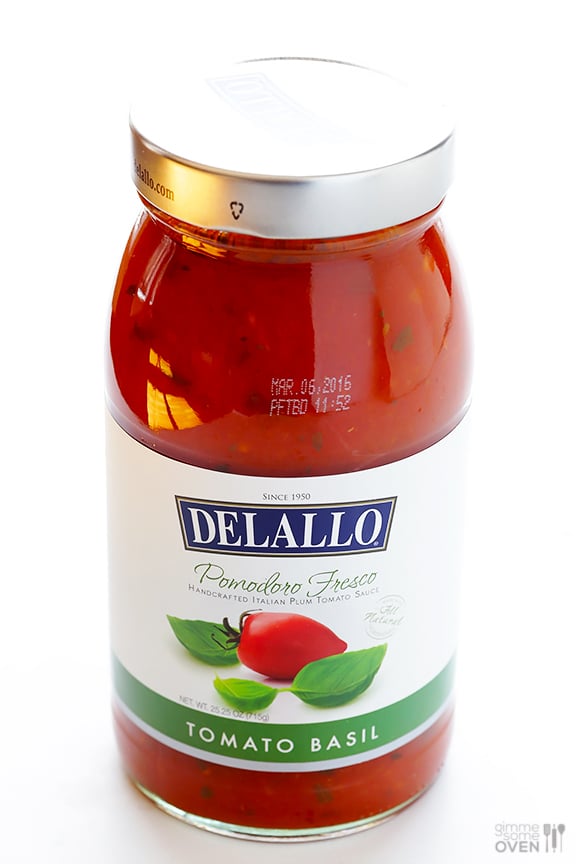 So for a slightly different twist on the classic, I thought it would be fun to use one of my favorite
Pomodoro Fresco tomato sauces
from
DeLallo
and make a "chicken parmesan"-inspired version of baked ziti. Many of you know that I love to make
homemade marinara sauce
, but when I'm pressed for time, I always turn to this delicious line of sauces from DeLallo. By contrast to many sauces at the grocery store, DeLallo's sauces are made from whole, all-natural ingredients. And they actually tastes fresh and good
,
not processed and overly sweetened. Just
good
. On just about anything. :)
I went with
DeLallo's Pomodoro Fresco Tomato Basil Sauce
for this recipe, but any of their pasta sauces would be great (especially my other favorite, the
Spicy Arrabiatta Sauce
).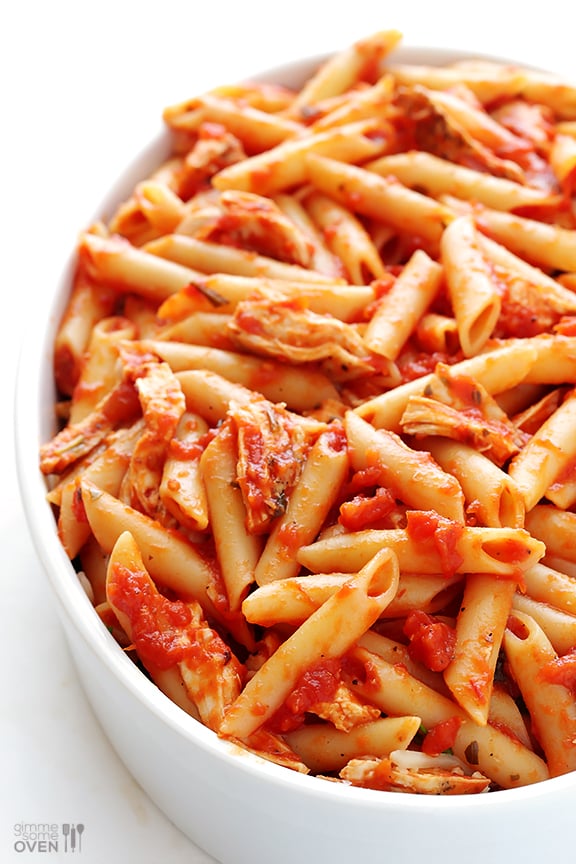 To make the baked ziti, I cooked up a batch of penne ziti and then tossed it with the sauce. Then for the "chicken parmesan" twist, I added in some shredded cooked chicken, chopped fresh basil, and lots of grated Parmesan.
I know that traditional chicken parmesan requires you to bread and pan-fry the chicken. But I thought the dish already had plenty of flavor and texture without adding the extra fat/calories. And hey, true to the name, we're including lots of chicken and lots of Parmesan. So I'm sticking with it.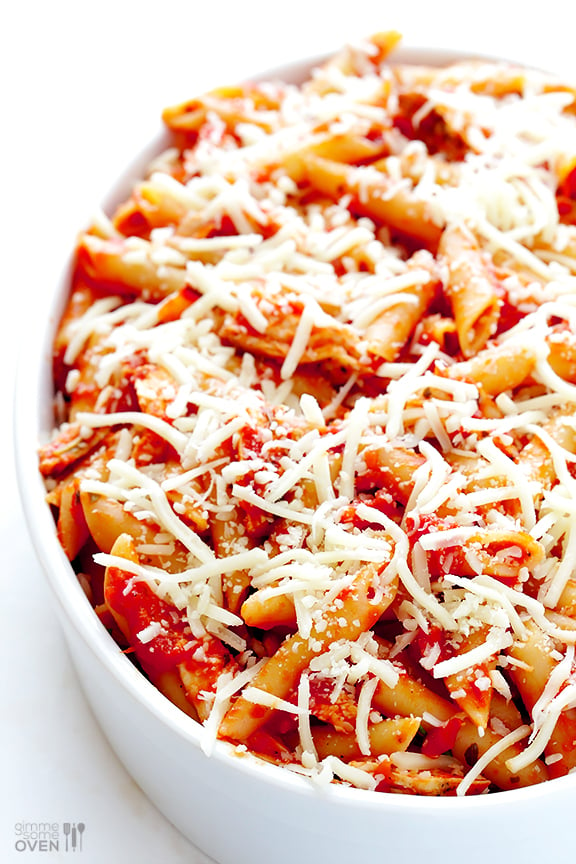 True to college dorm-room form, I did still add in quite a bit of mozzarella cheese, which makes everything ooey and gooey and wonderful.
So basically, you layer it all up and then pop your dish in the oven…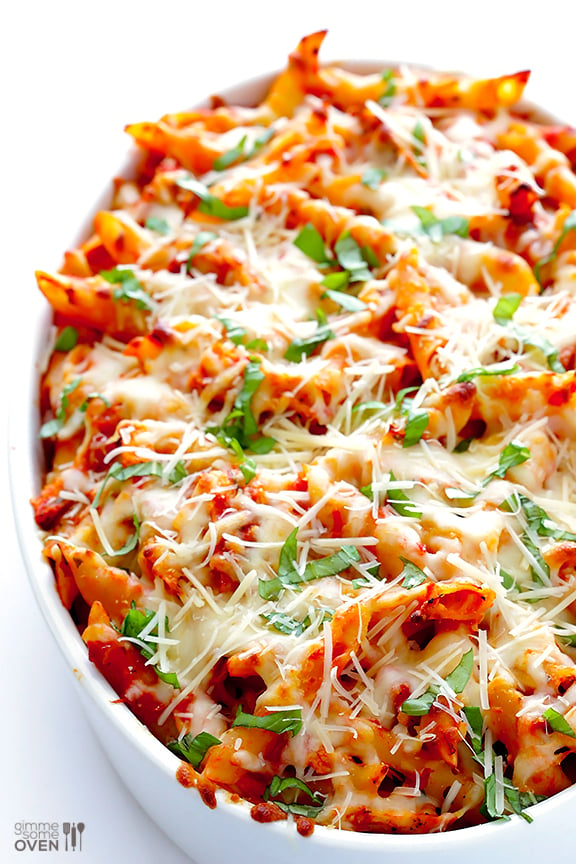 …and 20 minutes later, this deliciously cheesy dish is ready to go. Just top it with some extra Parmesan and fresh basil, and serve!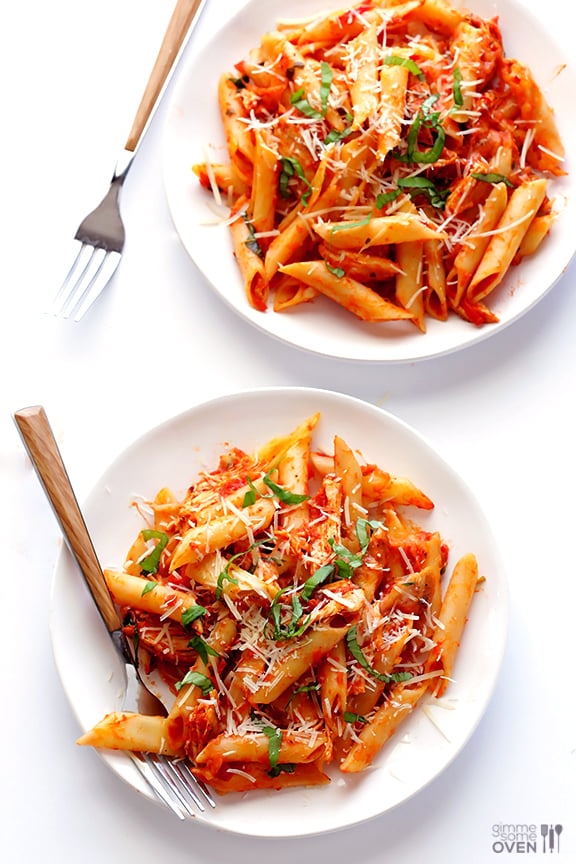 It definitely feels wild that a decade has passed and I have somehow learned my way confidently around a kitchen in the time since. And — yes — now am even a full-time food blogger. (That job wasn't even invented when I was back in college!) But I love that dishes like these are still a part of my life, and are just as comforting today as they were ten years ago. Because I definitely hope to still be making this one tens years form now, and ten years after that, and after that….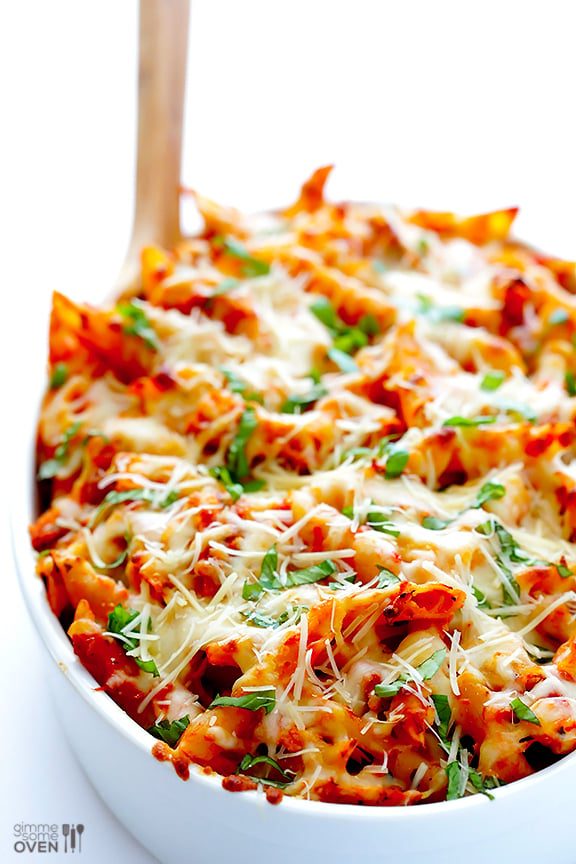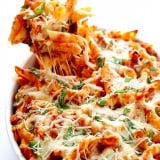 YIELD: 6-8 SERVINGS
CHICKEN PARMESAN BAKED ZITI
This Chicken Parmesan Baked Ziti only requires 6 ingredients and is totally delicious and comforting.
PREP:
15 MIN
COOK:
30 MIN
TOTAL:
45 MIN
INGREDIENTS:
12 ounces DeLallo penne ziti (or any pasta shape)
2 cups shredded, cooked chicken (about 2 small chicken breasts)
1 (25 ounce) jar DeLallo Pomodoro Fresco Tomato-Basil Sauce (pasta sauce)
1 1/2 cups shredded mozzarella cheese (I used 2% low fat)
1/3 cup freshly-grated Parmesan cheese
1/4 cup packed fresh basil leaves, roughly chopped
DIRECTIONS:
Preheat oven to 375 degrees F.
Cook the pasta al dente in a large stockpot of well-salted boiling according to package instructions. Drain. Return pasta to the stockpot and add chicken and tomato sauce. Gently toss to combine until the pasta is evenly coated.
Pour half of the pasta into a greased 11x7-inch or 9x13-inch baking dish. Sprinkle evenly with 1 cup of mozzarella cheese, half of the Parmesan cheese and half of the basil. Layer the remaining half of the pasta evenly on top. Sprinkle evenly with the remaining 1/2 cup of mozzarella cheese.
Bake for 20-25 minutes until the cheese is melted and just barely starts to turn golden. Remove and sprinkle immediately with the remaining Parmesan cheese and fresh basil. Serve warm.